Copper thieves wreak havoc amid insatiable demand
However, the laws did not eliminate crime in the scrap trade and opened up new opportunities in the informal economy. Many dealers continue to openly advertise junk for cash.
Emergency police told a statutory review of the laws last year that the number of registered traders has roughly halved since the law came into force, although evidence suggested many companies continued to trade outside the law. The fine for trading without a license was only $1900 less than the registration cost and could easily be absorbed as a business expense. Revenue NSW said it had issued 36 fines for breaking the law since January 2017.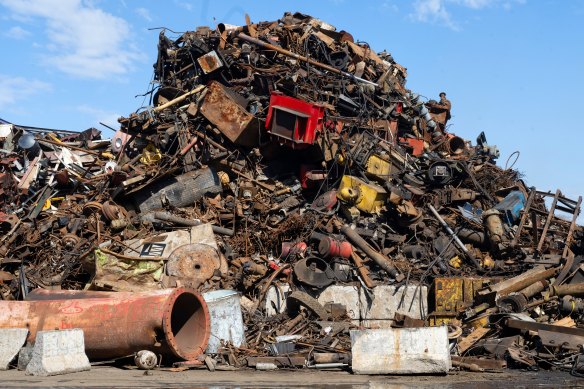 Rick Ralph, executive director of the National Waste and Recycling Industry Council, said unscrupulous scrap dealers fuel crime by breaking the law and accepting cash payments before exporting the valuable metal abroad.
"The fact that all this copper is disappearing and no one knows where it's going is part of the industry that needs to be investigated," Ralph said. "In a way, it will probably be about money laundering. Stopping it will take a dedicated force focused on illegal activities."
While police recorded 678 copper thefts nationwide in the 12 months to March — a 35 percent increase from the previous 12 months — there were only three recorded instances of people receiving or handling stolen copper.
A business owner, who asked to remain anonymous because he feared being targeted by organized crime, said police recently visited his scrapyard and seized stolen metal, which he identified as having been sold to him by another scrap dealer be. But when police went to the original dealer, they learned that the stolen metal had been purchased in a cash sale, with no details of the seller. They did not take action against the dealer, who had paid in cash.
"In 20 years in this industry, I've seen it all," said an employee of the business owner. "I've seen pipes ripped from churches and plaques ripped from cemeteries."
Tony Khoury, chief executive of the Waste Contractors and Recyclers Association of NSW, said the laws are sound but their lack of enforcement has placed law-abiding companies at a competitive disadvantage. Last year the law was tightened and higher penalties were introduced, but this has not been accompanied by an increase in enforcement action and there have been no changes on the ground.
"The rogue element of the market pays little attention to the laws and knows the police are not enforcing them," Khoury said. "They continue to pay cash and that then takes business out of the legitimate operators."
Later, the plants that buy scrap metal for steel production also feel the crisis. Reputable scrap dealers remove the valuable components of the metal and sell them for reuse, sending the rest to landfill and paying a tax on that component. However, cheaper operations usually forgo the recycled portion and ship the entire package overseas in shipping containers to avoid the litter levy.
This is happening in such large quantities that steel mills are struggling to source recycled metal locally. Australia exported more than 2.5 million tonnes of scrap metal in 2021-2022, and the value of the export has increased by about 50 percent to more than $3 billion in just two years.
In 2020, steelmaker BlueScope began importing scrap metal from overseas for the first time. Michael Reay, director of corporate affairs, said the biggest factor behind scrap metal shortages is the "containerization" of metals. BlueScope had increased the recycled content in each steel melt from 18 percent to 25 percent in recent years to improve CO2 intensity and aimed to increase the proportion to 30 percent. "But we're constrained by the local supply of scrap steel," Reay said.
Suzanne Toumbourou, chief executive of the Australian Council of Recycling, said undercutting scrap dealers who are able to separate recyclable metals for reuse means more scrap is being exported to countries that don't have robust infrastructure or don't have the comply with the same environmental standards. The council wants the federal government to require scrap dealers to process their materials before export, which is already required for plastics, paper and tires. "We want much stronger enforcement of rogue operations," she said.
The NSW Environmental Protection Authority only requires licenses for companies with the capacity to process more than 150 tonnes of scrap metal per day or 30,000 tonnes per year. Only seven companies in NSW have an environmental license to process scrap metal.
Police told last year's law review that it was difficult to prove dealers offering cash for scrap actually did so. In some cases, dealers placed a small "No" in front of a large lettering promoting "Cash for Scrap". Dealers can also circumvent the rules by registering as wrecked car dealers, who aren't subject to the same cash ban – although that ban is set to come into effect later this year. About 30 percent of scrap metal dealers also hold an automotive recycler or repair license.
Business records of scrap dealers offering cash payments reveal a complex web of related companies controlled by the same people. Those who have been contacted by the herald refused to actually pay out any cash, insisting the payments had been made by electronic transfer.
A director at a Sydney-based copper recycling company said his company was not taking up enough land to operate an export operation and the scrap it received was sold on to intermediaries as quickly as possible. The man, who could not be identified for legal reasons, said he didn't always know where the metal he received came from. "If someone shows up in a pickup truck or a car with metal, we're not going to say, 'Where did you get that?'" he said. "They will never come back to us. They'll say, 'It's none of your business' and they'll go somewhere else."
Police Minister Yasmin Catley said she recently met with representatives from the scrap industry and will continue to work with them.
"Police resources are an operational matter for NSW Police. They will be deployed when and where they are needed most," said Catley.
"Officials are highly mobile and flexible to respond to the full range of incidents across the state. This includes conducting compliance inspections of scrap dealers when there are findings or complaints that indicate possible non-compliance and/or criminal activity."
Is loading
Meanwhile, copper thefts keep happening. Ausgrid has seen a spate of thefts from its network over the past three to four months, particularly around Newcastle and the Hunter Valley. Essential Energy said its network has also been affected, particularly on the North Shore, with some thefts threatening the safety of maintenance teams.
"They're picking some of the more rural locations to cut down some of those poles — poles that might go through other people's property or go over roads that are just as quiet as others," said Sam Sofi, Ausgrid's general manager of field service.
Ausgrid said the fall of the power pole that started the Muswellbrook bushfire was never solved.
The Morning Edition newsletter is our guide to the day's most important and interesting stories, analysis and insights. Login here.