Convicted artist Charles Rodius exhibition opens in Sydney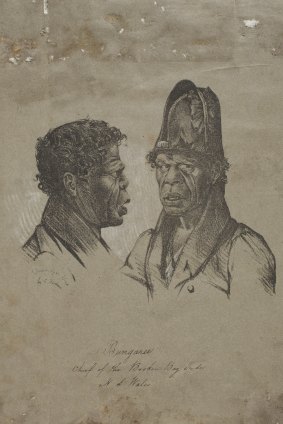 Hansen said that early colonial settlers were fascinated with Australia's flora and fauna, which was later replaced by an interest in the people and place in the early 19th century.
The exhibition, which includes works from the British Museum and the National Library Canberra, captures Sydney's early characters.
These include the ferryman Billy Blue and Dr. Ludwig Leichhardt, the explorer who inspired Patrick White's novel Vossmany First Nations peoples and Maoris who lived in Sydney.
Portraits of Aboriginal chiefs and their wives were "so well executed" that a Sydney newspaper reported in 1834 that "the fidelity of the likenesses will astound any observer who has been to the colony for any length of time." ".
It is difficult to recognize the clean-shaven young man in an 1854 portrait by Rodius as Parkes. The future prime minister was then a young newspaper editor.
Rodius is believed to have taken Parkes to court to crush a strike when industrial action was still illegal. Today, Parkes, known as the Father of the Federation, is easily recognized in pictures for his massive forehead, large head, luscious hair, and snow-white beard reminiscent of Santa Claus.
According to Mitchell librarian Richard Neville, Rodius' talent rivaled that of his famous contemporary Conrad Martens, but "his work was rejected by the art world and his name has almost disappeared from art history".
Damien Webb, head of the library's Indigenous Engagement department, says that little is known about Rodius and the indigenous people in his portraits, or how much of an impact those motifs had on the interaction. It is not known if the indigenous subjects were paid to sit for him.
Many early Aboriginal portraits tended toward caricature. Rodius seemed to have more respect for these men and women, Webb said.
So why was he forgotten? Hansen attributes this to the taint of convict heritage, the treatment of Aboriginal people at the time, and the almost total neglect of colonial art in the 20th century.
Pictures by colonial artists testify to a shared history, he said.
"Since the First Fleet, it's a shared history, sometimes an ugly history, but a shared history nonetheless. Not presenting this material is a disservice to First Nations history and people."
Charles Rodius. State Library of NSW. June 17 – May 12. Admission is free.
The Morning Edition newsletter is our guide to the day's most important and interesting stories, analysis and insights. Login here.