Concerns about indigenous culture hit Santos' $6.1 billion Barossa gas project again
Concerns about Indigenous heritage have hit Santos' flagship Barossa gas project north of Darwin again after the offshore regulator effectively halted construction of a 262-kilometer offshore pipeline just weeks before it began.
Offshore environmental agency NOPSEMA on January 13 instructed Santos to hire independent experts to assess whether there are any sites along the pipelines' route that might be of spiritual or cultural significance to indigenous people and then adjust their plans if necessary.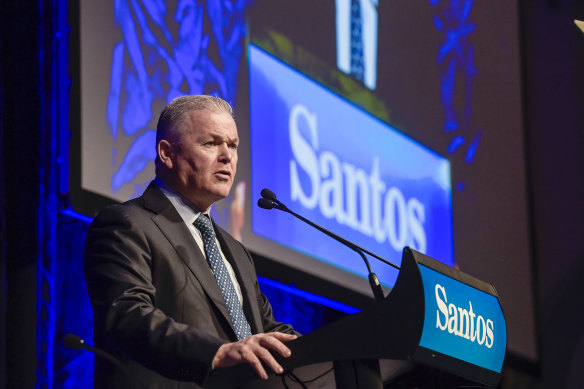 Santos has pledged not to start construction of the pipeline until then, according to the NOPSEMA directive released Monday, which in itself does not prohibit construction from proceeding.
Drilling in the Barossa gas field north of Darwin halted in early October after traditional owner of the Tiwi Islands, Dennis Tipaklippa, won a case in federal court for not being consulted when Santos prepared an environmental plan for submission to NOPSEMA .
The latest setback for Santos' flagship project comes at a sensitive time as a loan from Korea Trade Insurance Corporation to SK to support its investment in 37.5 percent of Barossa is expected to be extended through Thursday. The company and the Export-Import Bank of Korea, which together loaned SK $330 million ($470 million), are already concerned about the high emissions the project will cause due to carbon dioxide in the reservoir.
Loading
Santos was asked if the regulator's actions would delay Barossa's scheduled commissioning in the first half of 2025 and did not respond.
In December, Santos planned that the special vessels needed to lay the pipeline on the seabed would arrive in Darwin in late January and begin work for five to six months. The two ships, owned by Dutch company Allseas, are now anchored off Singapore, according to ship monitoring site MarineTraffic.
According to the statement, NOPSEMA inspectors in late December reviewed Santos' environmental plan for the pipeline installation "at short notice" and determined that more information was needed on the risks to the underwater cultural heritage balance along the pipelines' route, which stretches within seven kilometers of the Tiwi Islands .
https://www.smh.com.au/business/companies/indigenous-culture-concerns-again-hit-santos-6-1b-barossa-gas-project-20230123-p5cewo.html?ref=rss&utm_medium=rss&utm_source=rss_business Concerns about indigenous culture hit Santos' $6.1 billion Barossa gas project again