Comedy Festival delivering in spades
Late arrivals – a bunch of burly blokes – are victims to a mocking barrage that even gets them giggling. He acknowledges the person with the Nelson Muntz (The Simpsons) laugh and audibly gauges crowd reactions.
Brilliant banter, fine call-backs and wildly amusing deconstruction of stereotypes. So close to perfect, it hurts.
★★★★½
Reviewed by Donna Demaio
Lara Ricote | GRL/LATNX/DEF (MEX)
The Westin Three, until April 23
Lara Ricote is presenting comedy as real as the truths you're serving up in the all-women group chat of your most trusted friends. From flirty to filthy, it's as wonderful as it is wicked. Girl, Latinx, Deaf she might be and there's plenty of material about her experiences as all three, but is it calculating to do a show about your marginalised identities in this era, asks Ricote? No complaints when it results in a show this unique and entertaining.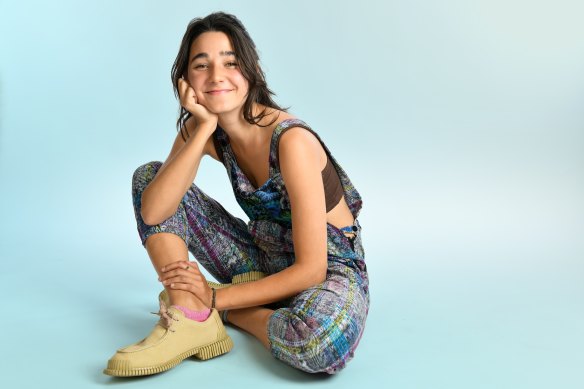 Ricote knows how to work a room. Her timing is impeccable, her usage of the long pause admirable, and her read on the audience spot on.
She might appear impish on stage, but after lulling the audience by telling us she feels more girl than woman, Ricote pushes the envelope until by the end of the show you wonder how we ended up here. This is adult humour of the best kind.
★★★★½
Reviewed by Lefa Singleton Norton
Joshua Ladgrove | Baba
Melbourne Town Hall, until April 23
Part comedy show, part history lesson, and fully a homage to the profound love he felt for his 97-year-old grandmother before her passing, Baba is a sensational hour.
Ladgrove, more well known to festival audiences as his madcap character of Neal Portenza, has cast off the shackles of silliness to delve into the very real relationship he had with his grandmother during the pandemic lockdowns, and as she moved closer to shuffling off this mortal coil.
Laughs are abundant, his historian-like knowledge of Slavic political warfare and international relations is immaculately articulated, as is his deep hatred of communism.
Plus, a few drive-bys at The Project, Frank Walker, Putin and even his own tech help level out the tension when the subject borders on slightly too serious.
You'll leave with a stomach aching of laughs, tears in your eyes and the urge to call your relatives and let them know that you love them. To inspire such a show, you can only imagine what a wonderful woman his Baba must have been.
★★★★½
Reviewed by Tyson Wray
Frankie McNair | An Intimate Evening with Tabatha Booth starring Frankie McNair
Melbourne Town Hall – The Flag Room, until April 23
Winner of the 2022 Best Newcomer Award, Frankie McNair returns this year with an exquisite character study of the (fictional) chain-smoking, washed-up 1950s songstress, actor and stand-up comedian Tabatha Booth.
Tabatha's been away for a couple of years – the show opens with a pre-recorded black-and-white interview, her last public appearance until now – but she's sold everything she owns to "perform in the best storage room in the country". Alas, problems plague her set. No industry person is in attendance. Her special guest doesn't show up. Technical failures abound. And audience members keep heckling her to be the long fork lady.
McNair is bewitching as Tabatha – fluttering her exceptionally long eyelashes at anyone she makes eye contact with, tap dancing on cue, folding herself clumsily over a stool as she fishes makeshift cigarettes out of her bra and barks at her stagehand Riley, a memorable sidekick to the unfolding mayhem. If her superbly enunciated drawl, clever wordplay and deliciously unhinged stories of glitz and glamour doesn't have you in hysterics, her titillating denouement to the show will.
★★★★
Reviewed by Sonia Nair
Cal Wilson | Supposably
Swiss Club, Melbourne Town Hall until April 23
Given she radiates good vibes, you'd think nothing could get Kiwi comedian Cal Wilson cranky. Just don't slow her down by wandering aimlessly when she's rushing around town, challenging total strangers to walking races. And whatever you do, fellas, don't use unbidden hand signals to guide her into a parking spot she was perfectly happy taking her time aligning with. If Wilson's in a giant but mostly empty car park, she'll probably slide in next to another car. Frankly, she thinks dudes who demand a 500-kilometre no-park radius around their precious automobile have a "colonial mindset".
On top of her game, Wilson is a rare comedian who can work a room without making folks feel super-awkward. She wants to know what irks you too, but unlike George Orwell's daily Two Minutes Hate session in terrifying dystopian novel 1984, this leads to a jolly all-in therapy session. Even the left-field audience member who hates mushrooms because "they're smug" is embraced. Deft of wit, Wilson works that WTF moment into a snappy call-back.
She knows the show's name will irk grammar pedants. It bothers her too. After almost two decades of marriage her husband has given up attempting (and failing) to say the word "supposedly", not because she always picked him up on it, but because her young song son did as soon as he reached that level of speech.
Wilson is a hoot, channelling bottled-up frustration into ferociously funny overshares about her dad's sock-driven OCD tendencies and a truly spectacular shopping centre own inflicted on her by her increasingly sassy son that you'll be tempted to try at home. The latter serves her right for spilling on a school show disaster and Lynx Africa spillages. But even when miffed, you get the sense Wilson's never anything but incredibly kind. The show's a real good time.
★★★★
Reviewed by Stephen A Russell
Guy Montgomery | My Brain Is Blowing Me Crazy
Victoria Hotel, until April 23
Over the past five years Guy Montgomery has become one of Oceania's premier observational comics.
With monotone and occasionally drawling delivery, his ability to elicit riotous laughs from simplistic acts such as catching a tram, buying shampoo, sending emails and purchasing pyjamas is clinical.
There are also back-handed pot-shots at Cremorne (surely it's not a real suburb?), the demoralising realisation that we're all not really needed in our workplaces, and tales of his relationship with his step-daughter (alongside stealing material for the show from her).
It's not all G-rated material, however. There are quips about the situations where it's not appropriate to take ketamine, ingesting LSD and writing jokes in the botanic gardens, and his deep love of weed. That said, they are all delivered with a waggish charm and never feel like they're intended for shock value.
A very solid starter for a night out at the festival.
★★★★
Reviewed by Tyson Wray
Sam See | Government Approved Sex
Melbourne Town Hall, until April 9
A few years back, Singaporean comic Sam See was invited by his government to host a series of public panels demystifying sex. He's turned what he learned there into a laugh-packed sex ed lesson that's genuinely full of the unexpected.
It's no surprise he scored the gig – he boasts Jimmy Carr swagger and Jiminy Crickett warmth (plus the sartorial panache of both). You trust him, which is essential for a show roaming from romance to kink, the cultural differences in dirty talk, and the worrying reason Durex killed off its global sex survey.
See never aims to shock, though, and the occasional moments of interaction only serve to galvanise the crowd. The stats he reveals – and the way the audience responds – hint at the diversity of experience and desire in any given room. It's a reminder that there's no normal, but you're far more average than you might think.
★★★★
Reviewed by John Bailey
DeAnne Smith | Nipless
Chinese Museum – Silk Room, until April 23
DeAnne Smith is easily distracted, they confirm, and gently chastises an apparent super fan who snaps a photo, mid-gag.
Once the "lovely energy" in the room has been noted, their set brims with meandering anecdotes – mostly about love and loss. They roll out relationship catastrophes – dissecting heartbreak and heart-mending.
The comic veteran canvasses the trials of a Vegas wedding, staying friends with exes and pondering if therapy is worth it. Amid hordes of relatable tales, the elucidation of the show's title and a random moment of "brain crashing", there's a fair whack of heckling.
But is it heckling if the comedian urges the audience to "get involved" from the outset, encouraging "fun contributions"? As loads of interjections are flung, Smith embraces some and bats away others – maintaining a light-hearted grace, a nimble wit, and deft kindness.
Sharp and funny. Is this show better than therapy? Yep.
★★★★
Reviewed by Donna Demaio
Mark Watson | Search
Melbourne Town Hall, until April 23
With a faux beginning, Mark Watson delivers the audience four lies and a single truth to detect. Dressing up as a gigantic dildo, speaking multiple languages, sleeping with an Australian A-lister et al – he leaves the stage and returns two minutes later and leaps into his show and slowly dissects the fiction.
With motormouth delivery and a voice that breaks more often than a 15-year-old, Watson details the repercussions of his failed marriage, the bewilderment of his teenage son's first Google searches since acquiring a smartphone and Zoom meetings with teachers gone awry.
Generally fatherly material sinks terribly among most audiences. They, to put it bluntly to most comedians, don't care about your kids. In Watson's hands, it's affable and deftly delivered – as you would expect from a veteran performing at his 11th comedy festival.
A side-note: this is not a show you want to be a latecomer for. Watson prepared the audience with a bombardment after his weekend shows were thwarted by traffic issues due to the Grand Prix. It didn't eventuate tonight, but I wouldn't want to be on the receiving end when it does.
Nothing groundbreaking, but thoroughly enjoyable.
★★★★
Reviewed by Tyson Wray
Geraldine Hickey | Of Course We've Got Horses
Comedy Theatre, until 23 April
Seasoned comedy veteran Geraldine Hickey is back with an hour of anecdotes recounting her recent wedding and newly acquired hobbies – bird-watching for her, carriage-driving for her wife – delivered in her signature unhurried, deadpan style.
That these musings are somewhat anodyne but conjure big laughs from Hickey's adoring audience is testament to her skill and charm. Everything lies in the delivery, and not just in Hickey's offhand narration, but in her expressions – she conveys multitudes through oft-raised eyebrows, a flash of a wicked grin – and her physical comedy. It's tribute to Hickey's likeability factor that not even an Adelaide audience member who called her a "capitalist pig dog" can maintain their rancour.
The show ends with a delightfully theatrical flourish – a resplendent celebration of queer community and love – and on a more personal note, a celebration of Hickey's fans as she tearfully shares the news of her father's passing, and thanks the room for the love they've shown her. Her weekend shows will be cancelled as she regroups with family, but three replacement shows have been added for April 21-23.
★★★½
Reviewed by Sonia Nair
Ari Eldjárn | Return of the Icelandic
Melbourne Town Hall, until April 16
If you're searching for an evening of Nordic hijinks, the biggest name is Icelandic comedy is arguably the only act serving it up this festival.
Eldjárn joyously spins tales of how his government's pleas for its citizens to not visit a now active volcano were ignored by the people of Reykjavík, how lockdowns in Iceland really just resembled a regular winter, and why his home country is deemed too boring for terrorism by international aviation officials.
There are also sharp observations on the dumbing down of modern-day hip hop, how his sleep apnoea impedes the ability to have one-night stands, and the ear-piercing differences that come with the quality of electric cars.
The feel-good nature of the show is slightly jolted in the final 10 minutes when he begins recollections of his extremely recent divorce. A trimming of the fat would result in another half star.
★★★½
Reviewed by Tyson Wray
Claire Hooper | Sweet Charity
Mantra on Russell until April 9
When soft plastic recycling systems collapsed, how many folks breathed a sigh of relief? Former co-host of The Great Australian Bake Off Claire Hooper suspects it's a lot.
A card-carrying leftie (you'll get your money's worth trolling her if you're right-wing, she suggests) who wants to do the right thing, she also hates being stuck on a green-fingered retreat with her kids. Or having to listen to the mournful dirges of Greens candidates who'll never get cushy gigs in mining or big pharma.
Picking at the scabs of parental and existential anxiety, she asks if it's really going to make you feel better if you graciously pay for $45 of someone else's chicken nuggets while stuck in a drive-through queue when all you want is a coffee? Is generosity to humanity and our future foolish? Sounds like a slog, but the chuckles keep coming and Hooper leaves us with hope.
★★★½
Reviewed by Stephen A Russell
Michelle Brasier | Legacy
Comedy Republic, until April 23
Michelle Brasier is thinking about mortality, and with some good reasons. A near crash landing and a festering wound in the crotch area are just two.
From a deep cut Backstreet Boys soundtrack to a sick Gen Z burn, this show is aimed at ageing millennials – and she has us in the palm of her hand.
Brasier's high-energy anecdotes take us on a winding journey from Wagga Wagga to Montreal, from birth to death, by car and by plane.
Well-crafted songs peppered throughout are levelled up with moments of wonderful parody, perfect comic timing and proper singing chops.
A "mystery" plot device, however, proves too loose a thread to neatly cinch together a somewhat disjointed narrative.
Legacy is searching for deeper themes that need more space to develop – something Brasier has managed with a deft hand in previous shows.
★★★
Reviewed by Hannah Francis
Sh!tfaced Shakespeare | Romeo & Juliet
Forum Theatre, until April 23
Two households, both alike in dignity … Yep, the opening of Romeo & Juliet mentions it, but you won't get too many lines into Sh!tfaced Shakespeare before dignity dies in the arse.
The conceit? A troupe of trained Shakespearean actors stage the play, with a random cast member chosen to get completely shlackered in advance.
It's scripted comedy with solo improv, in the vein of Thank God You're Here, and the performer picked to act as though they're maggoted beyond belief has the happy challenge of causing boozed-up derailments to the show.
Lowbrow, puerile humour dominates, from a phial of "poison" up Friar Laurence's bum to the silliest codpieces since Rik Mayall's appearance as Lord Flashheart in the second series of Blackadder.
The impromptu ending's a dumpster fire: those wanting an upbeat feminist rewrite might be safer with & Juliet. Still, this fast, loose, diverting hour sometimes rises to wittier lampoon of Shakespearean performance. Best enjoyed if you've had a tipple yourself.
★★★
Reviewed by Cameron Woodhead
Lizzy Hoo |Woo Hoo!
Melbourne Town Hall, until April 23
Lizzy Hoo is on the cusp of turning 40, and she's feeling fine. Her set is decorated with bright flowers, her outlook is sunny, and she likes who she is. This sets the tone for a show with relatable laughs in the biggest room Lizzy Hoo has performed in for the festival.
Hoo talks through the surprising turns life took for her to end up on stage as a comedian. Wanting to improve her presentation skills somehow led to comedy stages and television shows with some interesting diversions. Like the time she decided she needed to figure out her future by taking a year to work in Mongolia. As you do.
Whether talking about office jobs she loathed or bringing Australian culture to Mongolia, Hoo is in the flow. There's no dark to offset the light, no life lesson to take home, and not a single lull. It's peppy, positive, and a damn good time.
★★★
Reviewed by Lefa Singleton Norton
Bea Barbeau-Scurla | House
Storyville, until April 9
With the kind of content warnings that would make a cigarette pack wince, this isn't the feel-good show of the fest. Right out of the gate, Bea Barbeau-Scurla lets us know she'll be dragging us laughing and/or screaming into the deep end of the comedy pool. Thankfully, she has the chops to keep us afloat.
For the past decade or so, stand-up has been the go-to art form through which to explore mental health, with big names from Maria Bamford to Patton Oswald to Hannah Gadsby reckoning with their inner demons in public.
Barbeau-Scurla's hour puts her family in the crosshairs, teasing out the ways in which intergenerational trauma and denial led to angst-ridden teen years and serious adult therapy. Somehow she squeezes big laughs from all this – getting negged by your mum, growing up in a "yelling household", the harrowing ordeal of reading your old diaries. It's heavy stuff, but served up with a winningly light touch.
★★★
Reviewed by John Bailey
Larry Dean | Fudnut
Swiss Club/Melbourne Town Hall until April 23
Glaswegian comedian Larry Dean may not have the nasal whine of a certain type of street-fighting guy stereotypically associated with his hometown, but he acknowledges his startling eyes make him appear as if he's always wearing a tracksuit.
It's one of several subtle nods to class commentary – like this of his posh boyfriend: "I'm from Glasgow, he's from money" – tantalisingly hinting at something more behind an often-rambling, take the low road show. Skirting sheepishly around mental health; "Feel your feelings," implores his therapist, and you can't help wishing he'd follow their advice instead of always distracting with something silly.
Hung on an overlong and not very interesting airport search drama, at least the constant interjections allow a breather. But when Dean finally coalesces on an emotional tribute to those who lift us up when we need it most, you can feel a much stronger show waiting in the wings.
★★★
Reviewed by Stephen A Russell
Headliners | Reviewed April 4
Melbourne Town Hall – Lower Town Hall, until April 9
What sound do comics not want to hear during a set? Crickets.
In this instance, it seems there were actual crickets, with loud, persistent chirping heckling the 70-minute showcase of disparate comics.
First up, a supremely chill Shalewa Sharpe impressively builds rapport, regaling the audience with menopausal minutiae and other later-in-life experiences.
The Lucas Bros – identical twins Keith and Kenny – have perfected vibing, deadpan humour. Ridiculously hilarious while tackling bullies, the universe and gun control.
Patti Harrison is wondrous to behold. Edgy, odd, eccentric and "not a mean comic". References to mass shootings, anxiety and Stuart Little among the chaos.
Finally comes Sheng Wang – the comic most distracted by the cricket noises – questioning why but getting no answers. And despite kidding that "crickets took away my power", a re-focused Wang persists, adroitly delivering super-sharp lines. And then a moth fluttered past him on stage. No joke.
Reviewed by Donna Demaio
EXPERIMENTAL
Miso Bell and Tyler Bain | Make Good
Loop Roof, until April 18
In Make Good, self-help gurus Miso Bell and Tyler Bain invite special guests (and the audience) to take along an object that isn't bringing them joy.
Participants are interviewed and the object "improved" before their eyes – upcycled in a live craft intervention, savagely annihilated, or both.
It could have been an appealingly deranged Marie Kondo-style experiment. Alas, tech problems plagued the AV setup and the duo's overreliance on their own objects turned it into a train wreck. Comedian guests outshone them; only one audience member got to play.
Loading
Fearless improvisation and more responsive comedy might salvage the original idea. Perhaps jettison the guests save one audience plant, build on the shambolic personas and flashes of wit, and don't be afraid to upstage or poke fun at interviewees. (Watch Dame Edna interviewing k.d. lang for a masterclass.)
Properly managed, public humiliation can be one of live comedy's most compelling gifts. Hoard too much and you should follow Kondo's advice – thank it for its service and show it the door.
★½
Reviewed by Cameron Woodhead
The Melbourne International Comedy Festival is on now until April 23. The Age is a festival media partner.