Collingwood Magpies confident Nick Daicos can avoid Blues sophomore Port Adelaide will wear prison grid jumper against Adelaide Crows
However, too much is often read into practice game form. The Magpies say Daicos has had an excellent preseason, has built muscle and can be used in a variety of roles.
"He's been used so well, half-forward, half-back and midfield, so I don't think that's going to change. He'll be thrown where the team needs him as well as what suits him for what he's going through right now," Buckley said.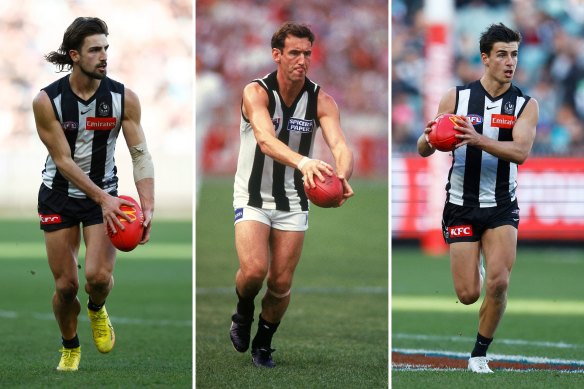 That can only be a good thing, as Hawks coach Sam Mitchell put it straight to the point during an interview during the game against Launceston: "He'd better get used to it, he's just too good to let him go around."
Daicos' father, Magpie's great Peter, has told his son that the tough day was a compliment. The focus on Daicos will be greater this season, but many clubs – unlike the Hawks – prefer not to tag.
Loading
The Magpies open their season with a blockbuster against Geelong on Friday night and the reigning Premiers are usually reluctant to tag.
"He'll get his attention, so be it. It went to another level [last] Weekend, that's how Finn plays Maginness. He just walks with you. But I'm sure they have some party tricks up their sleeves," said Peter Daicos.
"You won't show your hand 1678499763 – It could sit in a goal field. There's a lot more areas you can place him in to try and spot players like this."
Skipper Darcy Moore insists Daicos is ready to take care of the attention that awaits her.
"It's pretty unique for a sophomore to get that much attention in a practice game and I thought he handled it really well," Moore said. "Nick had another great preseason, which is exciting. Luckily he's a versatile player, can play a few different roles for us, which is great. If we can worry about ourselves as a defense then we are doing something right."
Echoing Peter Daicos' sentiment, Magpie's assistant manager Brendon Bolton confirmed there will be contingency plans in place if Daicos junior is shadowed, while adding that it's not necessarily a bad thing for the youngster to "grind" one day will be finished.
Pies Power reaches agreement on prison bar jumpers
AAP
Port Adelaide will wear its historic "prison bar" Guernsey in their third-round AFL showdown with Adelaide after reaching a long-awaited settlement with Collingwood.
When Port joined the AFL in 1997, they were barred from using the prison pole sweater they wore in the SANFL amid opposition from Collingwood, who claims the design was too similar to their own Guernsey.
The Power have since asked to wear the black-and-white striped traditional Guernsey to showdowns, but have been ruled out by the Magpies due to former Collingwood president Eddie McGuire's adamant opposition.
Port was allowed to wear the Guernsey in round two in 2020 as part of its 150th anniversary, but had repulsed several other requests to wear it, including in 2021 when the players switched to the Guernsey instead after a showdown win over Adelaide.
Collingwood's shift in attitude marks a thawing of ties under McGuire's successor, Jeff Browne.
Loading
"While we own the stripes in AFL competition, we recognize the history and origins of Port Adelaide Football Club and its contribution to South Australian football over a long period," Browne said in a statement on Saturday.
"As President of the Club Board, and following ongoing discussions with Port Adelaide President David Koch, we believe we recognize Port Adelaide's history prior to their entry into the AFL and support them in moving their 'prison bars' towards Guernsey bear pending showdown at home against the Crows in Round 3."
Koch hailed the agreement as a win for Power fans and hoped to extend the agreement beyond 2023.
"If the past few years have taught us anything, it's that the fans are at the heart of our game," he said in a statement.
"Our fans have been asking about this Guernsey. They understand more than anyone else the importance of heritage and tradition and we are delighted to be carrying that Guernsey back to our people.
"Collingwood President Jeff Browne and Chief Executive Craig Kelly have been outstanding during these discussions."
Stay up to date with the best AFL coverage in the country. Sign up for the Real Footy newsletter.
https://www.smh.com.au/sport/afl/pies-confident-daicos-can-avoid-second-year-blues-prison-bar-jumper-deal-struck-with-port-20230310-p5cr3s.html?ref=rss&utm_medium=rss&utm_source=rss_sport Collingwood Magpies confident Nick Daicos can avoid Blues sophomore Port Adelaide will wear prison grid jumper against Adelaide Crows