Coalition enabled Pezzullo's inappropriate behaviour
It's political expediency run riot ("Pezzullo stood down", September 26). Consecutive Liberal governments clearly enabled and encouraged this man's inappropriate behaviour simply because his politics aligned with their own. And if they didn't know what he was up to, that is an indictment in itself. It is horrifying to imagine the march of an increasingly autocratic society if Morrison had won the last election. Perhaps other conservative decisions should now be examined, like the retention of AUKUS, the continuing approval of coal mines, the sanctity of negative gearing and the stage three tax cuts. Alison Stewart, Riverview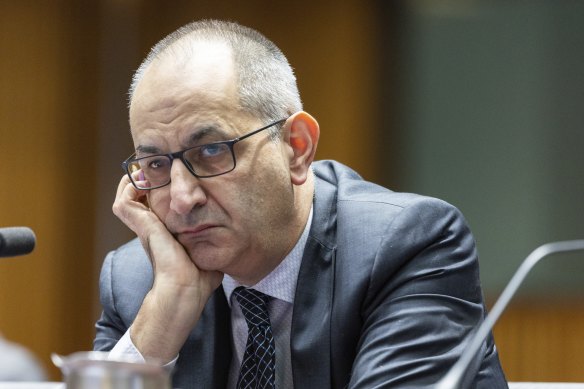 It's hard not to be bemused by the Pezzullo scandal: he is a modern-day Sir Humphrey Appleby ("No minister can trust Pezzullo again", September 26). But George Brandis' article bemoaning the trashing of Westminster principles is even funnier. George – we have seen the total trashing of Westminster principles under the Coalition. A prime minister who secretly appointed himself to five ministries did not have to resign or step down. No accountability, remorse or punishment resulted. And certainly no mea culpa. Not to mention robo-debt and the rest. So save us the outrage and crocodile tears. Anthony van den Broek, Erskineville
Most so-called powerbrokers like to boast about their capacity to wield power within their parties in the media, but it seems nobody had heard about Liberal Party powerbroker Scott Briggs until this story broke. So who has leaked them to the media? Mukul Desai, Hunters Hill
I wonder how many other Mike Pezzullos are out there white-anting government? Grahame Riethmuller, Redbank
The whole public sector needs to be educated that it is to serve the public, swiftly, efficiently, fairly, without spite and without political bias or personal agendas. Does the public sector understand it is a public servant and accountable, even now? John Dobinson, Herston (Qld)
"Under my model unless the harm was exceptionally grave you would not go after the journalist as a suspect or as an accessory, but you would still go after the original leaker." This alleged quote from Michael Pezzullo is revealing about why politicians have been slow to give whistleblowers any protection.
Pursuing whistleblowers with beefed up "national security" legislation punishes them and deters others, maintaining the secrecy necessary to exercise power corruptly.
Thankfully, a band of our politicians travelled to the US to plead for Julian Assange to be allowed to come home. We have legislation to protect private sector whistleblowers and the National Anti-Corruption Commission started operating on July 1. Let's hope the proposed public sector whistleblower bill – long discussed in Canberra since 2008 – isn't neutered at birth. Brian Mahoney, Gordon
Mike Pezzullo: looks like more Malcolm Tucker than Sir Humphrey Appleby.
Joe Weller, Mittagong
Another $900,000 publicly funded salary package that has bred contempt for public scrutiny and the public interest. Sue Dyer, Downer (ACT)
What I'd like to know is how Pezzullo found enough time to do his actual work in between this frantic high-level texting. Ian Jackson, Freshwater
I can't fathom how a top public servant, who presumably has an intimate knowledge of Australia's security services, could trust text messaging as a means of "confidentially" sharing his supposed wisdom, opinions and recommendations. Peter Campbell, Potts Point

Kicking the coach won't solve the Wallabies' problems
Quite rightly, multiple letters have criticised the reliance on private schools for rugby union talent (Letters, September 26). However, it has become evident over the past few years that the NRL clubs have stepped in to recruit from these schools. Joseph Sua'ali'i, Will Penisini, Cameron Murray, Patrick Carrigan, Angus Crichton, Tolutau Koula all signed to NRL clubs prior to completing school. At the very least, Rugby Australia needs to lock up these sorts of players to ensure some source of junior talent. Pankaj Rao, Merewether
Results achieved by Australian men in global sports such as rugby, soccer, tennis and athletics lead to two possible interpretations. Either we have dreadful coaches or we are a mediocre sporting nation. Our last male Olympic track gold medal was won in 1968 and our last male Australian Open tennis winner was 47 years ago. Kicking the coach is much more fun than accepting the obvious. In most sports, our men are third-rate sportsmen on the international stage. Keith Hartmann, Moruya
I feel sorry for the sports apparel retailers who will have to somehow offload all their Wallaby gear. Mark Kilminster, Castle Hill
The tirade of criticism in letters excludes one huge opportunity. Australian men and women have excelled at Rugby Sevens, which is a far more attractive running game. There is less risk of serious injuries compared with 15-a-side and it is highly appealing for broadcasters. For the Wallabies, there is increasing dependence on the recruitment of elite players with Pacific Islander backgrounds. By contrast, I'm glad to be a fan of football (the main world game). Pablo Bateson, Katoomba
After coaching Tweed River Rugby 3rd grade to three consecutive semi-finals in the 1990s I am willing to put my hand up for coach of the Wallabies. No training involved and the team sheet finalised at pub on a Friday night after asking "what are you doing tomorrow? There'll be some beers." Always a bonus if they had watched, or heaven forbid, played a game of rugby before. Matthew Nuttall, Banora Point
Hamish McLennan's quest to obtain greater media coverage of rugby in Australia has overwhelmingly succeeded. George Maniatis, Dulwich Hill
Eddie Jones' talking to Japan's rugby fraternity regarding a coaching gig could well be fortuitous. Not only for Eddie, but fortuitous, too, for the Wallabies. Rose Panidis, Orange
Australia has the best rugby players in the world. The only problem is they are all playing rugby league. Jim Oman, Wamberal
Ange Postecoglou: our next Wallaby coach? Norris Smith, Davidson
Deadly summer
As a healthcare professional I read the article ("Nation urged to prepare for summer's silent killer", September 26) with dismay. We have only just come out of winter and are hitting high temperatures in early spring. All indicators from the European summer of heatwaves and fires point to a deadly summer in our own country. Heatwaves are killers, putting stress on our bodies in multiple ways. Heat can trigger heart attacks and cause heat stroke even in young healthy people. In an era of global warming, we need to look at what we are doing to protect our vulnerable people – those in places where the beach is not nearby, and where there is no air-conditioning to turn on. It is reassuring to see that federal and local governments are working around resilience strategies, but we also need to look at the causes of global warming and the ongoing approval of coal and gas in our country. Deanna Hayes, Hurlstone Park
Tiny violin
My heart goes out to all the traumatised members of the Kingscliff community ("North coast hamlet latest battle site for development", September 26). A four-storey retirement village will not only be a blight on the landscape but it will attract more elderly people. Anyone who has endured waiting at pedestrian crossing for an older Australian can attest to the trauma that accompanies an influx of the elderly. Surely all the old people could simply be rounded up and shipped off to a remote location far from the views and amenities which the rest of us want to enjoy, without growing old. Chris Andrew, Turramurra
Instead of opposing a compliant, much-needed housing and care option for older people next door to their homes, Kingscliff NIMBYs should embrace the positives. An aged-care facility next door will be quiet, with no chance of Airbnbs on their doorstep. And in the not-too-distant future, the NIMBYs can simply jump the fence and spend their final days in a lovely new facility in their own backyard! Pam Timms, Suffolk Park
Limited appeal
Vivienne Parsons (Letters, September 26) comments that Jacinta Price is "a strong and passionate woman who speaks up for her people". It is worthwhile noting the actual level of Northern Territory support for Jacinta Price from "her people". As recently as 2019, Price contested the House of Representatives for the CLP. In the Indigenous areas her vote was very low: in Yuendumu and Kintore out of 500 Price received just 36 votes; in Utopia and surrounding communities out of 600 votes Price received just 38 votes. This pattern was consistent through the remote communities. The absolute reverse applied in Darwin and Alice Springs in the white-dominated polling booths where Price polled well. This is Jacinta Prince's power base, not "her people" as suggested. Warren Marks, Hill Top
The divide in Australia sparked by the upcoming referendum demonstrates that overall we aren't really sorry at all. Mike Keene, Stanwell Park
Pet peeves
Paola Totaro, you can't be serious ("Take London's lead, let pets on public transport", September 26)! My wife and I were recently in the end compartment of a train from Central to Circular Quay and sat next to a young chap who had a pet rat running up and down the inside of his shirt sleeves.
We were both startled and alarmed of course, but he assured us it wouldn't bite. Yes, to assistance dogs which always behave impeccably but no to pets on public transport. Lance Dover, Pretty Beach
Yes, dogs are allowed on public transport in London, but you have to carry them on the escalators. My placid, 32 kilogram, 12-year-old golden retriever would not qualify. Genevieve Milton, Dulwich Hill
If Paola Totaro wants more bums on public transport seats I cannot think of a worse idea than allowing dogs on board. Her dog may well be impeccably trained and obedient, but the hard fact is that a great number aren't. Every year sees many thousands of dog bites nationwide. Not to mention those less savoury types who have trained their dogs to be downright nasty. There are enough aggro people on public transport already. Do we really want to let them bring a weapon on board? Lloyd Swanton, Wentworth Falls
Well, here I was thinking that Sydney's public transport could not get much worse. But then people began seriously suggesting that fur babies join the peak hour crush. Tell them they're dreaming. Merona Martin, Meroo Meadow
Locals left out
Obviously landlords in popular tourist area will fight any move to force them to change their properties to long-term rentals when tourists plainly prefer the space and facilities of a cottage or apartment over a hotel room, creating a lucrative business for the owners ("Will Byron Bay's Airbnb cap save this seaside paradise?" smh.com.au, September 26). While this situation exists, people working in the area will never be able to rent locally. Joan Brown, Orange
While Brisbane City Council has increased rates for short-term rental properties by 50 per cent, NSW councils are currently prevented from doing so. Business premises usually pay higher rates than a permanent residence, and the NSW government should correct this anomaly. It is one simple measure to increase the supply of long-term rentals. Michael Britt, MacMasters Beach
Powering on
What a great idea with benefits across the board ("City residents in on the plot as solar gardens help keep electricity costs down", September 26)! I imagine that many apartment dwellers in the cities who are unable to install solar panels on their rooftops would be attracted to these projects. And what great gifts they would be to charitable organisations to help keep their electricity costs down. Lyn Savage, Coogee
Truly scary
I find it profoundly depressing that $500 million is apparently going to be spent on Halloween ("Halloween spending tipped to hit $500m", September 26). Forget the debate about whether it is relevant. No, my concern is the mountain of plastic junk left over after this one-day event. Cheap plastic pumpkins, costumes, and assorted paraphernalia – all the stores are full of it, mostly produced in China, shipped over by container vessel, distributed to stores around the country and all ending up in landfill after one day of mirth. The environmental carnage for one day is immense and so unnecessary. Ross Corrigan, Redfern
Time for change
Here we are again, being woken up by bright daylight at 5am. Everybody's tired and doing stupid things due to lack of sleep. Daylight saving starts 12 weeks before the longest day and finishes 15 weeks after the longest day. Why? The dates should be equally spaced around the longest day if it is to make any sense. It should start in September. Geoff Ross, Bayview
Owl at the moon
Your correspondent expresses a desire to strangle an owl at 3am (Letters, September 26). Apart from the questionable legality, one must confront the difficulty of intercepting, apprehending and restraining the offending bird. Even then, the anatomical structure of the owl does not suggest strangulation as an optimal method of despatch. Doug Walker, Baulkham Hills
Voice of the faithful
I was fascinated by today's letter about Jesus and the Voice. Jesus always encouraged his followers to care for those most in need, but I don't think he ever expressed much knowledge of the Australian constitution. Michael Walsh, Croydon
All aboard
Why not swap the boards of Qantas and Rugby Australia? Both boards would know a thing or two about turbulence, rucks and mauls (judging by my recent experience of the Qantas lounge). It couldn't hurt, surely? Stephen Driscoll, Castle Hill
To submit a letter to The Sydney Morning Herald, email letters@smh.com.au. Click here for tips on how to submit letters.
Catch up on the best letters and online comments on the topic of the week in our Friday wrap Yours. Sincerely
The Opinion newsletter is a weekly wrap of views that will challenge, champion and inform. Sign up here.