ClubsNSW CEO Josh Landis Resigns; NZ PM meets with Anthony Albanese; Royal Commission on Robo-debt Continues; Domestic Violence Leave Act Begins; 'No' vote-to-parliament campaign criticized by Prime Minister; Penny Wong calls on Britain to confront its colonial past; Daniel Andrews and Dominic Perrottet team up to fix Medicare and increase hospital funding
Meanwhile, Secretary of State Penny Wong has announced that the federal government will impose targeted financial sanctions and travel bans on those responsible for "egregious" human rights abuses in Myanmar — as well as sanctions on entities that facilitate the oppression of its people.
Wong, who is in Europe for a series of meetings with foreign counterparts, said the government will also impose additional sanctions on Iranian individuals and organizations for heinous human rights abuses.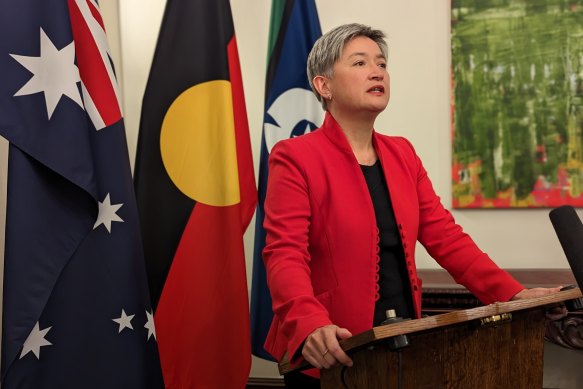 16 members of Myanmar's military regime are affected by the sanctions announced on the second anniversary of the coup. Two of Myanmar's military-controlled entities are now also subject to targeted financial sanctions.
Wong said the "time has come" to impose sanctions as the junta continued to launch airstrikes on civilians two years after seizing power from the government.
She added that over the past two years, Australia, ASEAN and international partners have repeatedly urged the Myanmar regime to engage in constructive dialogue and find a peaceful and lasting solution to the ongoing crisis.
Despite these calls, the regime has continued anti-democratic actions against the people of Myanmar, including violence and recent moves against opposition voices.
Loading
"The military regime has responded violently to any form of political expression, including peaceful protests," Wong said.
"There is evidence that thousands of civilians, including children, have been detained, tortured or killed.
"Australia will continue to closely monitor the actions of the regime. We will seek improvements for the people on the ground and steps to restore democracy, including credible elections."
The foreign minister has also announced Magnitsky-style sanctions against 16 Iranian individuals and an Iranian entity involved in the violent crackdown on protests following the death of Mahsa Amini and the ongoing repression of the Iranian people.
https://www.smh.com.au/national/australia-news-live-perrottet-andrews-to-team-up-on-medicare-and-hospital-funding-robo-debt-probe-told-of-dole-bludger-strategy-20230131-p5cgw8.html?ref=rss&utm_medium=rss&utm_source=rss_national ClubsNSW CEO Josh Landis Resigns; NZ PM meets with Anthony Albanese; Royal Commission on Robo-debt Continues; Domestic Violence Leave Act Begins; 'No' vote-to-parliament campaign criticized by Prime Minister; Penny Wong calls on Britain to confront its colonial past; Daniel Andrews and Dominic Perrottet team up to fix Medicare and increase hospital funding