Cloudy and humid conditions continue – Boston News, Weather, Sports
Today was one of those days when it's even hard to get out of bed. The good news is that I don't think any day for the rest of this week will be as bad as today. The bad news is the rest of the week isn't great… still cloudy and humid. The high temperatures today were very location dependent. It was the battle between the warm and the cold, with the cold dominating our northern points, the warmth gripping our southern points and everyone else in the battle zone in between.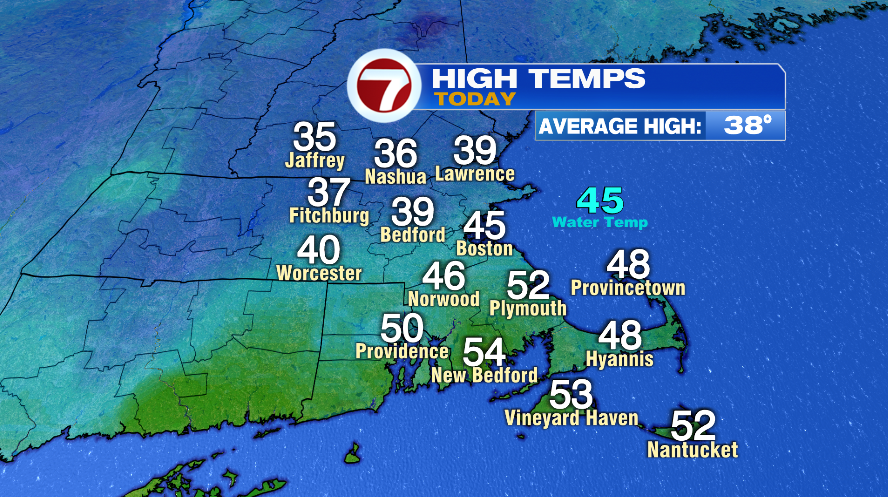 Tomorrow there will again be a battle between warm and cold, except that most of the heat will come from our area, mainly in Westmass. Our temperatures tomorrow will be more consistent in the upper 40's to low 50's. With a north-easterly wind, our cooler temperatures will bring cities and towns closer to the water.
The system we hold is a long stretched out system. It's actually a series of lows that will run through the next few days. One in the Ohio River Valley, one in the Gulf of Mexico, and one still near Minneapolis. As the weather continues to slip through, we will keep cloudy skies and wet conditions in the forecast through Friday.
As I said above, no day will be as wet as today, but they will still be wet. The next three days go like this:
Wednesday: Mostly dry, maybe scattered drizzle
Wednesday evening/night: Rain returns
Thursday: Drizzle and some freezing drizzle at the highest elevations
Friday: A few rain or snow showers possible
Wednesday night and Thursday could produce freezing drizzle at the highest elevations and result in a slick trip. It's important to note that we're not talking about an ice storm, where roads are impassable and power lines are weighed down with ice. It's a patchy, freezing drizzle that can result in a few slick spots, so take it easy outside.
https://whdh.com/weather-blog/cloudy-and-damp-conditions-continue/ Cloudy and humid conditions continue – Boston News, Weather, Sports