Clive Palmer, the $1.5 billion offer and the mysterious Swiss group with WA Mining involvement
Obscure Swiss-based group Zero Carbon Investek, which claims it can raise $1.5 billion to buy wealthy Clive Palmer's Queensland nickel refinery but has yet to do so, is in another Swiss company invests looking for minerals that could be processed at the refinery.
Zero Carbon Investek owns 14.98 percent of the Swiss group SunMirror AG, which explores for lithium, gold, nickel and iron ore in Western Australia. These exploration licenses are held by its subsidiary SunMirror Luxembourg.
SunMirror AG has only issued bearer shares – a financial instrument to disguise share ownership. Bearer shares are prohibited in Australia, although bearer share warrants remain permitted.
Among the minerals SunMirror is exploring for in Western Australia are those that could be processed at the Queensland Nickel Refinery if Zero Carbon Investek is successful in acquiring that business.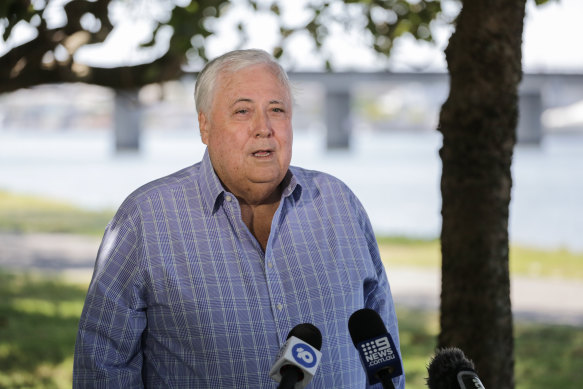 To date, Zero Carbon Investek has not provided any updates on its fundraising. According to Domenic Martino, a longtime advisor to Palmer and an advisor to ZeroCarbon Investek, the executives and advisors were scheduled to hold a media briefing in Townsville in late January to share more details. However, this did not happen.
Richard Petty, a Hong Kong-based former CPA president and director, is leading a consortium to raise money for Zero Carbon Investek to buy the refinery and another $800 million ($1.12 billion) investing in a renewable energy project to power the refinery did not respond to calls and messages.
Petty is a director and consultant to a number of small companies, but says he has previously "advised on projects with an aggregate economic impact in the hundreds of billions of dollars."
Palmer didn't return calls, but his media aide said, "Clive is busy," adding that they had no news on the refinery sale.
Zero Carbon Investek has distributed a document to potential investors as it aims to raise capital to invest in the refinery. The document names Domenic Martino's Indian Ocean Capital and Green Bond Corporation as advisers on the project.
Founded in 2021, Green Bond Corporation, which counts Australians among its executives, is a Luxembourg-based advisory group that says it "advises clients on the structuring and financing of large, capital-intensive infrastructure projects".
Zero Carbon Investek was also founded in 2021. In its fundraising document, it estimates the value of the nickel, cobalt and iron in the refinery's tailings dam could be recovered and could be worth as much as $9.4 billion ($13.6 billion).
This has professional investors scratching their heads as to why Palmer, a bewildering, shrewd, and litigious businessman whose fortune is worth nearly $20 billion, would sell the refinery if that value existed in the business? And why aren't tier one investors like South Korea's POSCO and Macquarie Asset Management interested?
The Queensland government has approved the refinery near Townsville to resume importing and exporting nickel products.
The refinery was placed under voluntary management in 2016, laying off nearly 800 workers. It then went into liquidation, and a six-year legal battle ensued between Palmer's company and the liquidator, which is estimated to have included nearly 100 separate lawsuits. The refinery's creditors have since been settled in full.
Loading
Zero Carbon Investek's estimate of the value of the minerals in the Tailings Dam contradicts the bankruptcy trustee's report. The report raised concerns about the safety and environmental aspects of the tailings dam and found no such value in the minerals it contained. However, market conditions for the minerals have improved significantly since the report was written.
Demand for nickel and cobalt has increased over the past decade. These minerals are important in the manufacture of batteries needed for the booming electric vehicle industry and are considered critical to the high-tech and green energy transition, which is why they have almost tripled in value over the past decade.
Zero Carbon Investek has two directors: David Rigoll, an Australian living in Switzerland who has been involved in small to medium sized mining businesses for the past four decades. The other director of Zero Carbon Investek is Swiss lawyer Hans Josef Frey.
Zero Carbon Investek has a significant stake in SunMirror, which last year made an abortive attempt to acquire Latitude Cobalt 66, an Australian explorer with cobalt exploration assets in Western Australia and Finland. SunMirror was unable to raise the required capital, nor did it receive sufficient commitments to complete the transaction. In a filing at the end of the year, SunMirror announced that it had accumulated 14.4 million Swiss francs ($22.6 million) in losses.
Loading
Zero Carbon Investek's offer to acquire the Palmer refinery is subject to approval by Federal Treasurer Jim Chalmers following due diligence by the Foreign Investment Review Board. The federal government now considers any investment in critical minerals such as nickel and cobalt to be a national security sensitive sector.
Earlier this month, the federal government rejected Palmer's plans to develop a centralized Queensland coal mine near Rockhampton under the Environmental Protection and Biodiversity Conservation Act.
A Queensland government spokesman said the state's Treasury Department has been carefully reviewing potential buyers of the Queensland nickel refinery.
Palmer, a Covid vaccine opponent, has been busy this month hosting conferences chaired by a US doctor who has been heavily criticized for his controversial views on the coronavirus.
The Queensland-based billionaire also remains in a protracted battle with the Australian Securities & Investments Commission, where he is fighting charges of breach of directors' duties and fraud.
https://www.smh.com.au/business/companies/clive-palmer-the-1-5b-bid-and-the-mystery-swiss-group-with-wa-mining-stake-20230212-p5cjsg.html?ref=rss&utm_medium=rss&utm_source=rss_business Clive Palmer, the $1.5 billion offer and the mysterious Swiss group with WA Mining involvement