Circus Oz returns with a new board and a new show
Founded in 1977, Circus Oz is known for its work that is political, irreverent and pushes the boundaries. A pioneer of contemporary circus on a local and global scale, it is also the collective property of its members. The February statement named an all-new board composed of Hill, Bryce Menzies and John Paxinos, with Chad Albinger holding a position as a corporate member. It illustrated the company's commitment to "a new phase for Circus Oz".
Circus Oz has had "fair notice" with the Australia Council for the Arts since 2018 due to ongoing concerns about its finances, governance and declining attendance. According to Hill, Circus Oz no longer receives operating funds from Australia Council or Creative Victoria.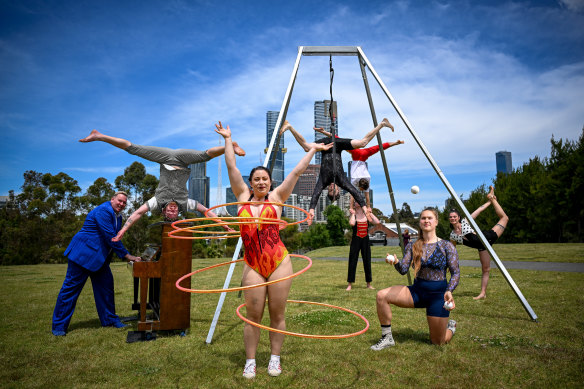 The upcoming Melbourne season was supported by the City of Melbourne and the Melbourne International Comedy Festival. "Circus Oz has adopted an entrepreneurial model that fits its creative strategy by investing in creative work and using company assets intelligently," she says. "Circus Oz is in its 45th year. We are going back a bit to our entrepreneurial roots."
The company's assets to which it relates include equipment, circus tents and the mirror tent, which it will use to support its creative endeavors and generate revenue.
"The new board and corporate members look forward to working together to find the right place for Circus Oz as an organization that occupies such a significant position in our cultural landscape," the February statement said.
"The company remains strongly committed to the empowerment of its employees, the creation of original work that connects with the widest possible audience, equity and social justice in the Australian and international community and in the broader circus sector."
Loading
According to its charter, the company is owned by members – currently around 90 people – made up of anyone who has worked for Circus Oz for three years or more.
A Victorian Government spokesman said Creative Victoria, along with the Australia Council for the Arts, are working closely with the new board of Circus Oz to understand their plans for the future and ensure the building they currently use is dedicated to the creative community from Victoria continue to be available .
"Creative Victoria has a lease with Circus Oz for this building and is in discussions to ensure Circus Oz and other creative organizations have access to the building to help make better use of this public good," they said. The rent for the building is heavily subsidized and support is provided for the upkeep of the premises.
According to Hill, an attorney and consultant, Circus Oz remains an ensemble group committed to innovation and collaboration, underpinned by their trademark larrikinism.
In December of last year, the company appointed Mexican-born and raised Alonso Pineda as general manager. The theater director and producer, who moved to Melbourne in 2019, is the first Latin American graduate of the VCA Master of Directing for Performance and describes himself as "interested in bold contemporary stories".
Wilks and Stephen Burton are joint artistic coordinators for the company, both longtime members of Circus Oz. The new show will be starring Debra Batton, Jarred Dewey, Sharon Gruenert, Spenser Inwood, Flip Kammerer, Chris Lewis, Leo Pentland, Carl Polke and Olivia Porter Conceived and performed by Susie Dee as a creative consultant.
Wilks says it's a special show, especially for longtime fans. "We're bringing back a very, very old act that fans of the early years of Circus Oz will remember – the Special Robert, but this time it's going to be the Special Roberta because Deb Batton, who is in her 60s, is a is I will fly from one side of the stage to the other."
Wilks started her career in the Flying Fruit Fly Circus and says circus in the traditional sense is for the masses – and it will stay that way. "I also think it embraces diversity and diversity of bodies, the human body and what the human body can do and what you think it can't do."
Circus Oz is at The Forum April 7-23 as part of the Melbourne International Comedy Festival. Age is festival partner.
A cultural guide to going out and making love in the city. Sign up for our Culture Fix newsletter here.