Chris Dawson was spotted with a student sitting on his lap at school, the court said
A court has learned that a teenage girl allegedly used in an illicit sexual relationship with Chris Dawson frequently spent breaks and lunches in his office and was spotted sitting on his lap.
Dawson, 74, faces an individual trial in New South Wales District Court after pleading not guilty to one count of sexually molesting a student who was his student at a North Beach high school.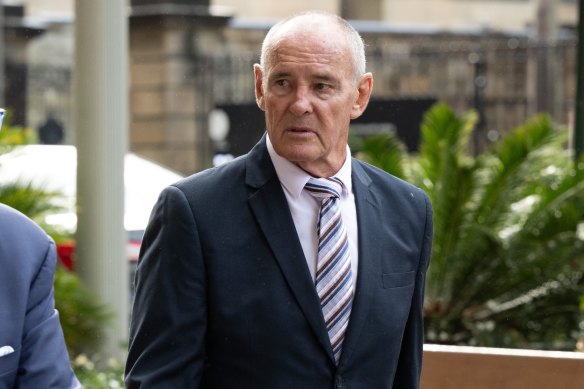 It is alleged that Dawson, who started out as a physical education teacher at Cromer High School in 1979, began a sexual relationship with the 16-year-old – whose name cannot be released – sometime between July and December 1980.
He doesn't deny having had a sexual relationship with the girl, but claims the teenager was neither 16 nor in his class when the relationship became physical.
On Wednesday, a woman told the court that she had been friends with the applicant at school in 1980 and recalled the girl "disappearing from our lunchtime group" and disappearing into Dawson's office for recess and lunch.
She said the office was about eight meters from where the friends usually sat, and when the girl went in there, "we went and knocked on the door and said, '[complainant's name]come out'."
"When I opened the door, I actually saw her sitting there on his lap," the woman said. "One time he also got very angry with us because we were knocking on the door or approaching the door."
The woman said she asked her friend why she was going to the office and was told Dawson was helping the girl by listening to her and giving her advice about her unhappy personal life.