Chris Bowen rules out ban on new gas and coal projects in Greens' safeguard mechanism negotiations
Climate and Energy Secretary Chris Bowen has ruled out banning new coal and gas projects as part of negotiations with the Greens over the government's proposed emissions reductions and environmental protections.
Talking to ABC insider Speaking on Sunday morning's program, Bowen also defended the use of carbon offsets for polluters to meet an emissions limit under the safeguard mechanism, saying without "flexibility" industries such as cement makers would have to lay off workers or reduce production.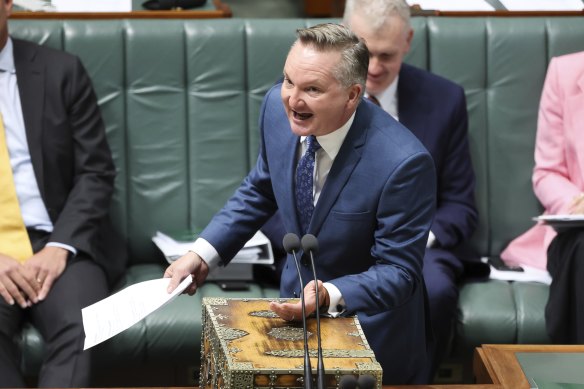 The government and the Greens have been locked in a standoff over upcoming bills, with Greens leader Adam Bandt saying the government should ban new coal and gas projects in exchange for the party's support for the safeguard mechanism.
Bowen cemented his language around the game of brinkmanship, saying while Labor was not proposing new coal projects it would not ban them either, it wanted all major emitters to be subject to the same pollution reduction regime.
"Every new development has an impact on emissions, whether it's industrial or resource…that's why I'm so committed to creating a framework to reduce those emissions," he said.
Loading
"If the safety reforms are not passed, our biggest emitters will not be capped, emissions will continue to rise as they have since the safety reforms were scrapped in 2016."
When asked if there would be a ban or a timeframe for banning new coal and gas projects, Bowen replied: "No, that's not part of our agenda and will not be part of these negotiations."
The safeguard mechanism applies to the country's biggest polluters and would require emissions to be reduced by 4.9 percent per year, but that target could also be met by purchasing carbon offsets, as Bowen said some companies would find it difficult to achieve this goal.
https://www.smh.com.au/politics/federal/bowen-rules-out-ban-on-new-gas-and-coal-projects-in-safeguard-negotiations-20230226-p5cnnf.html?ref=rss&utm_medium=rss&utm_source=rss_politics_federal Chris Bowen rules out ban on new gas and coal projects in Greens' safeguard mechanism negotiations