China calls for ceasefire in Ukraine, accused of double-dealing
British Prime Minister Rishi Sunak says Ukrainian forces must gain a "decisive advantage" over Russia on the battlefield. At a virtual G7 meeting hosted in Tokyo on Friday, Sunak will renew Britain's offer to send Typhoon jets to Poland or any other Eastern European country willing to transfer its fleet of MiG-29 fighter jets to the to hand over to Ukraine.
"For Ukraine to win this war – and accelerate this day – it must gain a decisive advantage on the battlefield […] It will take that to change Putin's way of thinking," Sunak will say, according to meeting notes distributed in advance.
China's foreign ministry said the war "must not escalate into nuclear war", warned against the use of biological weapons and opposed sanctions against Russia imposed without the support of the UN Security Council.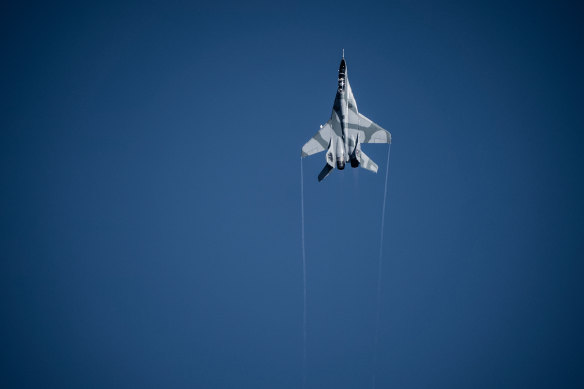 Russia is a permanent member of the UN Security Council and has veto powers over any sanctions imposed by the other four members, the United States, the United Kingdom, China and France.
"One country's security should not be pursued at the expense of others. The security of a region should not be achieved by strengthening or expanding military blocs," China's Foreign Ministry said in the position paper.
"The legitimate security interests and concerns of all countries must be taken seriously and addressed appropriately."
Noah Barkin, an analyst with the German Marshall Fund, said "no serious European politicians" believe China's peace proposals will bring about a positive change in Beijing's approach to the conflict.
"On the contrary, when it comes to China-Russia relations, there seems to be a greater risk that the coming year will bring negative surprises," he said.
"In the first year of the Ukraine conflict, China was careful not to cross the reddest of the western red lines. Should that change, the damage to European-Chinese relations would be immense."
Beijing's vague proposals are part of a push to position itself as a global mediator in the conflict and a responsible military power.
The campaign, which largely targeted developing-country partners, drew criticism from the US, which called on China to condemn Russia's invasion and limit its diplomatic support for Moscow.
But it has gained some support among China's economic partners.
Russian state media reported on Friday that officials in Moscow are considering a proposal by Brazilian President Luiz Inacio Lula da Silva that China, Brazil, India and Indonesia could help broker peace talks.
https://www.smh.com.au/world/asia/china-calls-for-ceasefire-in-ukraine-is-accused-of-playing-double-game-20230224-p5cnei.html?ref=rss&utm_medium=rss&utm_source=rss_world China calls for ceasefire in Ukraine, accused of double-dealing