Charlie Teo was found guilty of unsatisfactory professional conduct
The Health Care Complaints Commission made extraordinary allegations against Teo after receiving complaints following two disastrous brain surgeries. The results for both patients were catastrophic.
Patient B was a 61-year-old married woman from Geelong who had two children and five grandchildren. She was diagnosed with diffuse stage 2 IDH wild-type astrocytoma.
In the case of Patient B, "the physician performed an operation different from that proposed to the patient, and the surgical strategy resulted in an unwarranted and excessive removal of normally functioning brain."
It was inappropriate for Teo to demand a $35,000 upfront fee from a vulnerable woman before operating on her in February 2019 to remove her tumor, the committee found.
The surgery was a disaster and Teo removed an excessive portion of the normal brain.
The neurosurgeon also used inappropriate language to Patient B's daughter during a phone conversation about her mother's coma state in March 2019. "You're asking the wrong question," Teo told her. He also said, "Would I do it again? Damn oath I would. you should be thankful I gave the family extra friggin' time."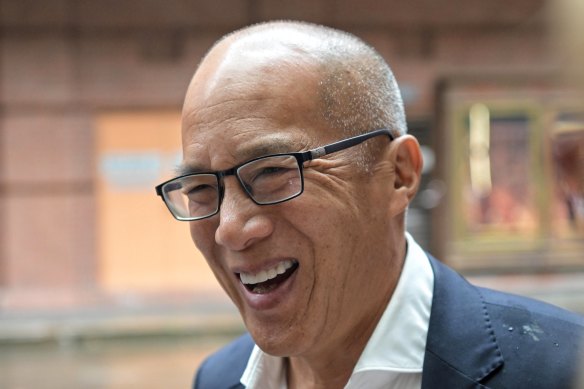 While it was determined that it was inappropriate for Teo to slap the unconscious woman in the face, it did not constitute a finding of unsatisfactory conduct.
Patient B's family paid more than $10,000 to fly back to Geelong, where she died on March 30, 2019. The following month, her husband filed a complaint with the HCCC.
A further complaint was made by the chief medical officer of Epworth Hospital in Geelong following a review of mortality and morbidity of patient B's treatment.
Neurosurgeon Elizabeth Lewis, who led the review of Patient B's care, told the committee it was wrong for Teo to offer surgery that was in vain "and then just send the patient back to a local hospital if things don't go well." It shows a complete lack of compassion and responsibility for caring for people appropriately."
Lewis also reported that this was not an isolated case. "There have been a number of complaints about this doctor's patient handling, his lack of communication with the original treating doctor and his 'I'm the best' attitude."
"It shows a complete lack of compassion and responsibility for caring for people appropriately."

Neurosurgeon Elizabeth Lewis
Teo has also been criticized for performing "experimental" surgeries that weren't done as part of a clinical trial.
"More significantly, his lack of reflection on his judgment in offering an operation without supporting statistical data or peer support, which in his own experience ten years from now may or may not have proved flawed.
"While the doctor expresses sorrow and takes responsibility for poor surgical results, he expresses no remorse for offering surgery to patient A or B. This lack of insight into his judgment is a cause for concern for us."
In August 2021, the NSW Medical Council concluded that initial complaints against Teo were serious enough that his surgeries could endanger the health and safety of the public. After an urgent hearing, conditions were imposed on Teo's ability to act.
Teo's limitations included not being able to perform "surgical procedures for recurrent malignant intracranial tumors and brainstem tumors" unless he received written approval from an independent neurosurgeon with 20 years of experience, which had to be approved by the Medical Association.
However, Teo could not find a neurosurgeon who could approve his surgeries.
In the decision, issued on Wednesday, the committee said it "sought to strike an appropriate balance between the health and safety of the public while ensuring that the doctor can continue to provide his surgical services to patients."
The committee reduced the professional experience of a licensed neurosurgeon to 15 instead of 20 years.
Teo had claimed that requiring written approval from another neurosurgeon before surgery amounted to a de facto "suspension" of his medical license.
He also argued that as a "pioneer in this field" he should not be prevented from performing surgical procedures "that may not yet be recognized in the scientific literature as beneficial".
Loading
He also claimed that there is no benefit in having a supervisor because he practices and teaches around the world and "his skills and supervision are in demand."
The HCCC rejected Teo's suggestions, instead arguing that the terms were necessary to "protect the public, given the physician's inability to properly assess the risks and benefits of surgery, his understanding of obtaining informed consent, his… Understanding Patients' Right to Privacy, Physical." Integrity and Its Use of Inappropriate Language".
The committee also found that "the practitioner is largely isolated from the majority of his colleagues and does not adhere to a set of relevant recognized professional standards".
Teo went on to lament this week that jealous co-workers who were envious of his superior talents had been out to destroy him for years.
Loading
In a podcast, he said the two complaints were filed by "my enemies" and that "the accuser, the plaintiff, the judge, the jury and the executioner are all the same person or institution, you don't stand a chance.".
Former Family Court Judge Jennifer Boland chaired the Professional Standards Committee. Two Victorian neurosurgeons and one layperson also took part in the discussion.
Teo was contacted for comment.
The Morning Edition newsletter is our guide to the day's most important and interesting stories, analysis and insights. Login here.