Central Equity is looking for a side project in suburban Armadale
The 359-square-foot stores are leased by high-fashion retailers Zimmermann and Rose Street Trading Co, which pay $195,619 a year. Zimmermann's lease expires in 2028.
They are located on a 254 square meter lot next to the Country Road Store. At the auction of the nearby Dion Lee store last month, the property reached a land price of $24,444 per square meter and a construction price of $35,484 per square meter. The yield hit a low of 2.06 percent.
At these levels, the Zimmermann and Rose Street stores could fetch up to $9 million.
Stonebridge Property Group agents Nic Hage, Rorey James and Sarah Xi are conducting the auction.
wheelhouse
One of the jewels of the CBD, Donkey Wheel House is back on the market after several years in the hands of the Ethical Property Commercial Fund.
The Gothic-style building near Southern Cross Station at 673 Bourke Street was built in 1891 for the Melbourne Tramway and Omnibus Company and was designed by architects Twentyman & Askew, who also designed the Royal and Block Arcades.
Leased to a number of social enterprises, the 3,000 sq ft four-story building includes a ballroom and commercial kitchen on the top floor and a spacious unrenovated basement on the lower level.
The seller is One Fund Management, the trustee of the Ethical Property Fund set up by the Donkey Wheel Trust and the UK Ethical Property Company.
Donkey Wheel had bought the property in 2008 for $8.2 million and extensively renovated it before selling it to a new unit trust in 2015 for $14.35 million.
They have their offices in the building along with The Big Issue Australia, SPELD Victoria, Waverley Industries and the Climate Council. A Salvos Op shop is located on the ground floor along with a wine bar.
Colliers agents Matt Stagg and Daniel Wolman handle expressions of interest. It is expected to sell for more than $25 million.
bank building
The Brady Group has held the Bank of China building on Queen Street just long enough to get permission for a new 13-story mixed-use office tower.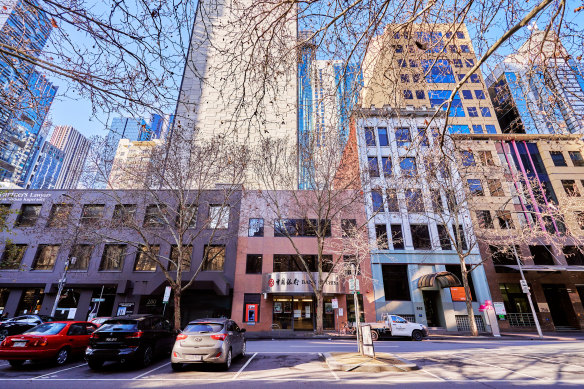 Records show Brady paid $16.6 million for 268 Queen Street in early 2021. The Bank of China had paid $1.6 million in 1994.
The 8,000 sq ft three storey building sits on a 4,500 sq ft lot adjacent to another Brady-owned property at 280 Queen Street and Little Lonsdale Street.
CBRE's Nathan Mufale, Alex Brierley, David Minty and JJ Heng are marketing the property.
Current levels in the CBD and the increase from a new permit suggest that the retail price could reach $20 million.
It is close to Queen Victoria Market and Victoria University's long-planned 24,000 sqm vertical city campus under construction at 364-378 Little Lonsdale.
Hot rubber
Records show that Bensons Property Group paid $5.35 million for Sam's Tires and Service Center property in Brunswick.
The 1010m2 site is located at 253-259 Brunswick Road, just behind Peregrine Projects' Sarah Sands redevelopment near the corner of Sydney Road. Mirvac's Park Street project is nearby.
The price equates to a strong land price of $5297 per sqm. The seller was the same family business that has been running the tire and service business for decades. Records show the property was purchased in 1995 for $385,000.
Bensons Property Group is currently developing residential towers on the Gold Coast and Footscray, as well as smaller projects in Armadale and Prahran.
Bensons CEO Elias Jreissati has also put an entire floor shell on the market for $15 million in the Eureka Tower.
The deal was struck by JLL's Josh Rutman, Jesse Radisich and Mingxuan Li, and Gross Waddell ICR's Andrew Greenaway and Michael Gross. They declined to comment on the buyer.
Rare office
Five Brighton bidders competed for a rare office building just off blue-chip Church Street, bringing the sale price down to $8.38 million.
The 504-square-foot office building at 28 Carpenter Street sold nearly 20 percent above its $7 million reserve and a sharp 3.08 percent yield.
Fitzroys' Mark Talbot and Tom Fisher conducted the auction for the estate of local businessman Tony Nanfra.
The building sits on a 589 sqm lot and is leased to Dorevich Pathology, Buxton Real Estate and Lifestyle Smiles. They pay $257,000 per year in rent and have leases with options until 2033. The buyer is a passive investor.
https://www.smh.com.au/business/companies/central-equity-looks-to-suburban-armadale-for-side-project-20220922-p5bk44.html?ref=rss&utm_medium=rss&utm_source=rss_business Central Equity is looking for a side project in suburban Armadale