Celtics' Marcus Smart draws a 3-shot foul on Giannis Antetokounmpo with a halftime buzzer heve in Game 7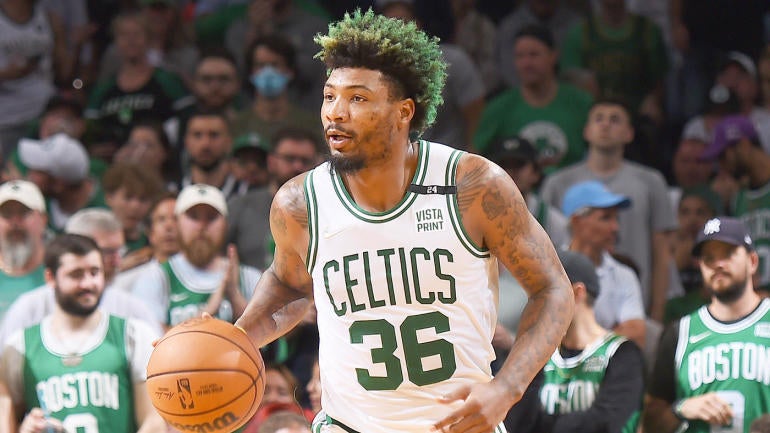 Getty Images
Every point counts in the playoffs, but especially so in Game 7. Late in the first half of Sunday's matchup between the Boston Celtics and the Milwaukee Bucks, Marcus Smart found an ingenious way to give his team three of them.
As time ran out in the second quarter, Giannis Antetokounmpo got the ball on the ground but had to turn because it was cut off by Daniel Theis. As he spun, Smart snuck in and batted the ball away. That was a nice game in its own right as it prevented the Bucks from getting a glimpse of the basket, but Smart wasn't done there.
He grabbed the loose ball and immediately went into a shot. As he did so, Giannis intervened and was called out for a foul. The referees ruled it a shooting error and gave Smart three free throws with 0.9 seconds remaining at halftime.
Smart calmly knocked down all three free throws, increasing the Celtics' lead from two to five points at 48-43 while also marking Giannis with his second foul. In a low-scoring series, those extra points could mean the difference between getting into the Eastern Conference Finals. The Celtics won 109-81 as the foul changed the game significantly from that point on.
It's worth noting that the Celtics were already in the bonus, so they would have gotten two free throws no matter what if Giannis Smart fouled. Still, it was a brilliant piece of quick thinking from Smart and a hallmark for a man always trying to help his team.
https://www.cbssports.com/nba/news/celtics-marcus-smart-draws-game-7-changing-3-shot-foul-on-giannis-antetokounmpo-with-halftime-buzzer-heave/ Celtics' Marcus Smart draws a 3-shot foul on Giannis Antetokounmpo with a halftime buzzer heve in Game 7