CBD now connected to Gabba as Cross River Rail hits new milestone
Brisbane's CBD is now linked to the Gabba by rail tracks below the Brisbane River, marking the latest milestone for the Cross River Rail project.
Transport and Highways Minister Mark Bailey announced on Sunday that more than 3 kilometers of track had been laid in each direction between the future Albert Street and Woolloongabba stations.
"This is a major milestone for the project – and for South East Queensland – as we continue to make progress on Queensland's largest rail project," he said.
"What we see here today is the route that will move our growing population, football fans and future game-goers once Cross River Rail is operational."
Bailey said the project would provide Queenslanders with better rail connections.
He said about 60 workers were involved in completing this section of track in the twin tunnels.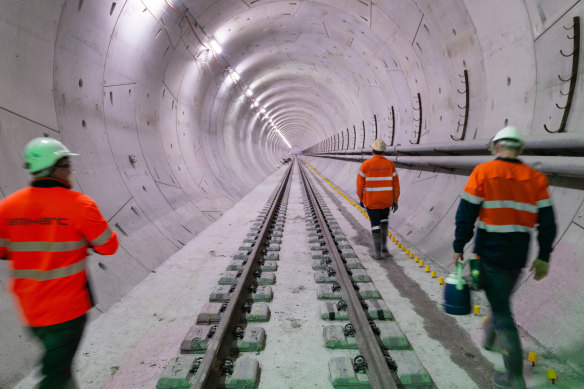 "The work being done under the CBD and the river itself to build the new Brisbane Metro is incredible and I thank all the workers involved for their dedication," he said.
"All in all, the crews laid about 385 tons of rails between the two future stations and set about 9,400 blocks in about 2,800 cubic meters of concrete.
"It's going full steam ahead as we continue another great year of construction at Cross River Rail."
Bailey said work on the mechanical and electrical components in the completed section has now begun.
https://www.smh.com.au/national/queensland/cbd-now-connected-to-gabba-as-cross-river-rail-reaches-new-milestone-20220925-p5bku4.html?ref=rss&utm_medium=rss&utm_source=rss_national CBD now connected to Gabba as Cross River Rail hits new milestone