Cate Blanchett gives America the good oil for Australian football
Bravo and well said.
And yet, in the face of such direct speeches, who should confuse, resign, evade and babble on than Thomas Bach, the IOC President.
"It is not up to governments to decide who can compete in which sports competitions," he said, "because that would be the end of international sports competitions and world championships and the Olympic Games as we know them."
No it wouldn't. It would be a sport that would gain fame because it would reinforce its prominence as a force for good in the world, as it has done most notably in things like helping end apartheid in South Africa.
You can't have both, Mr. Bach. You cannot carry on all of humanity's Olympic ideals, fair play; respect for others; friendship, equality, etc. AND applaud a country that engages in such naked, inexcusable aggression. If invading another country and killing off large sections of the population doesn't throw you out of a sporting competition, what need it.
The final word to Zelenskyy: "If the Olympic sports were killings and rocket attacks, then you would know which national team would take first place. If, God forbid, the Olympic principles are destroyed and Russian athletes are allowed to compete or compete in the Olympic Games, it is only a matter of time before the terrorist state forces them to play along with the war propaganda."
What he said!
Dark times lie ahead for the Tigers and Knights
You'll remember TFF last season calling it up early and after the first round said Penrith is going to win this thing. This time, after the first round of test matches, let me make one more prediction. Despite all the hype, hope and hip-hip hooray for the new coaching regime of Tim Sheens and Benji Marshall, the West Tigers will struggle hard. Lost 48-12 to the Warriors? Seriously? And her new captain Had Api Koroisau never played a game for the club before this season?
What does it say about a team when the guy you put up front to beat the drum before the game that he died for the jersey, blah blah, can't possibly have the first inkling of what the jersey actually is represents and speaks to guys, some of whom have been with us for years?
I repeat. you will fight
And the knights too. Have nothing, go nowhere. You heard it here first.
Hurrah for Matija and his victory for eternity
I love stories like this.
Almost a decade ago, Matija Pecotic was good enough at tennis to rank No. 206 in the world before more-or-less retiring due to injuries and subsequent surgery that didn't go well. So he ended up going to Harvard Business School and throwing himself into real estate instead.
Still, tennis nagged him, and after returning to a few tournaments and climbing to No. 784 in the world, he competed in the ATP Tour main draw at the Delray Beach Open in Florida last week, not far from where he worked – just to take on former world No. 8 Jack Sock.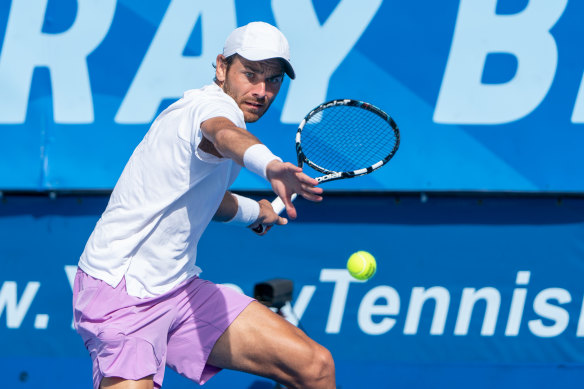 Pecotic, now 33, knew he stood little chance, but . . .
"But I figured if I bite the match and work on the two or three patterns I prepared earlier, I'll have a chance."
And yes, he goes down 4-6 in the first set, but watch him now!
His forehand blasts cross-court winners like old times! His serve works like never before! His backhand destroys the line!
Sock is shocked. And so is Pecotic. But he doesn't back down and ends up ripping a new one from Sock to win 4-6, 6-2, 6-2.
It got him into the round of 16 where he lost the next match but I don't care. This is sport at its finest.
what they said
John Hopoate: "They say the apple doesn't fall far from the tree and when it comes to my second son, Jamil, it just fell into my lap. He's in prison now."
Australian cricket coach Andrew McDonald, after his team's devastating defeat in Nagpur in three days: "The advantage of losing the game so quickly is that we have a little more thinking time to work through what scenarios are out there for us and that starts today." Ah, but seriously, folks.
NBC's peter king Description of former St Kilda player, now Philadelphia Eagles punter, kick in Super Bowl: "Eagle's punter Arryn Siposs clinked a wounded duck from a punt.
Philadelphia's Jason Kelce to Kansas City Chiefs' brother Travis after they played on opposing teams in the Super Bowl: "F*** you, congratulations."
Travis Kelce on whether the Chiefs are officially a "dynasty" after their second Super Bowl win in four years: "You can call it whatever you want."
Australia's wicketkeeper batter Alex Carey on advice from all sides to call off the reverse sweep: "My wife got on my nerves about it [you] couldn't see it for a while."
Allan Border thinks Australia are playing too nicely: "Play with a harder edge. I mean, we give guys a thumbs up when they hit us outside the stump. What the hell is going on? That's just ridiculous. Don't be silly, but Australia play hard-hitting cricket. . . Big locker room drink tonight just to try and knock something out." bloody hell Old school.
Josh Reynolds on his return to the Bulldogs: "It's not about Josh Reynolds anymore." Is it about talking about yourself in the third person?
Jackson Hastings on interacting with Kalyn Ponga at the Knights: "The first day I went into the shed at practice, he came in at the back in a bright pink undershirt and hat. I was trying to get my coffee and he gave me a big hug like we've known each other for years." New school.
PSG's Sergio Ramos after a Champions League defeat by Bayern Munich: "We have to show more character and more verticality in the second leg."
Tiger Woods on his hopes for his first tournament in seven months at this week's PGA Tour Genesis Invitational, whatever that is: "When I play the event, I try to beat you. I'm here to get a 'W' When I play, I play to win. At some point, my body won't allow it anymore, and that's probably sooner rather than later."
Woods on the awkwardness of the Masters Dinner with LIV players present: "The champions dinner will obviously be something to talk about. We must honor Scottie [Scheffler, the 2022 champion,] but also the nature of what happened and the people that have gone to see where our situation is, either legally, emotionally, there's a lot." Is LIV still up to date? Nobody seems to be talking about this?
Woods on how he will treat LIV players there: "I don't know what that reaction will be like. I know some of our friendships certainly took a different path, but we'll see if that all pans out. That's still a few months away."
Australia's Eamonn Dixon on winning the ball at the Super Bowl: "I didn't have a ticket to the game, but I did have one of my incredible . . . Customers called me in the morning and said that a replacement ticket was available. I found out at 7 a.m., got a flight at 12 a.m., and then I just got into the game when the national anthem was being sung, and then I just sat there and four quarters later I just feel like the ball fell off my lap, which was pretty surreal."
Cate Blanchett on American football versus Australian rules: "To be honest, it's a gladiator sport. Where I'm from we have an Australian rules football, Footy. They have a similar style of ball except they don't have the protection. They wear shorts and tank tops. And my uncle used to play professionally for Essendon. And my cousin played in Tasmania where it's so hardcore they played on gravel. They're losing a lot of players, but… that's why the population is so small."
team of the week
Waratah's. Start their super rugby season next Friday against the Brumbies.
Matildas. Beat the Czech Republic 4-0; Play Spain tomorrow and Jamaica on Wednesday in the Cup of Nations.
Ashleigh Gardner. The Australian cricketer fetched $558,000 at the first Women's Premier League auction.
Peter Bol. Temporary drug ban lifted. What's up? What is the explanation that the A sample and the B sample are different? Everyone? Somewhere, surely, someone needs to be held accountable — or at least offered an explanation.
Kansas City chiefs. Won her third Super Bowl and second in four years.
Twitter: @Peter_Fitz
https://www.smh.com.au/sport/cate-knows-the-rules-blanchett-spruiks-afl-to-nfl-mad-americans-20230217-p5clen.html?ref=rss&utm_medium=rss&utm_source=rss_sport Cate Blanchett gives America the good oil for Australian football