Carbon tariffs on the table to protect local industry from pollution caps
Federal tariffs may be imposed on high-emission imports into Australia to ensure local businesses are not penalized if they spend more money reducing their carbon footprint to meet the Albanian government's new emissions targets.
Climate Change and Energy Secretary Chris Bowen on Tuesday released a proposal to enforce pollution caps on the country's 215 biggest emitters, calling on them to invest in new technologies or carbon offsets to reduce their greenhouse gas emissions by 5 percent by 2030 to decrease per year.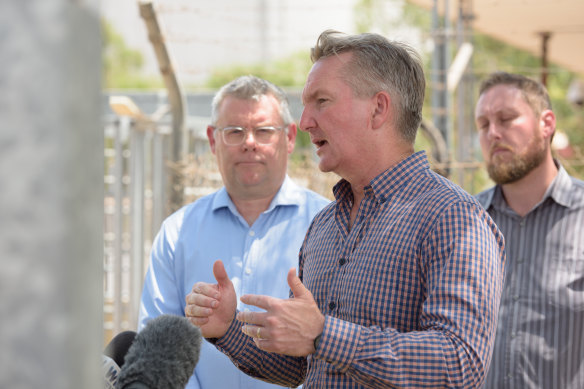 Bowen said on Wednesday he would explore a range of policy options, including cross-border carbon tariffs, among other things to ensure a level playing field for local producers of steel, cement and concrete when they compete against imports made in countries without binding emissions targets will.
The European Union has announced it will launch a carbon border adjustment mechanism next year, the UK and Canada are developing similar strategies, Japan has launched an investigation into a similar scheme, and the United States is working on a trade facilitation deal with the EU with "green" metals made with clean technologies.
Bowen said some businesses and industry groups have urged the government to investigate the tariffs and the government would consider doing so alongside a range of other options to support Australian businesses.
"As Europe has embarked on this path, Australia will consider its options alongside other options," he said. "Obviously that won't be in effect until July 1 of this year, it's a big change, but we've taken that feedback into account."
Loading
The Australian Industry Group submitted an application to the government last year, as the changes to the protection mechanism were being developed, demanding a carbon tariff on imports. On Tuesday, its chief executive, Innes Willox, welcomed Bowen's commitment to consider it.
He said a carefully designed carbon tariff is the best way to ensure local businesses remain competitive with international rivals.
https://www.smh.com.au/politics/federal/carbon-tariffs-on-the-table-to-shield-local-industry-facing-pollution-caps-20230111-p5cbri.html?ref=rss&utm_medium=rss&utm_source=rss_politics_federal Carbon tariffs on the table to protect local industry from pollution caps