Car crashes through wall and lands on sand
A car crashed through a wall and crashed onto a north coast beach as beachgoers looked on in shock.
Stephen Hall posted on Facebook that it was a miracle no one was injured after the KIA Seltos crashed at Balmoral Beach just after 1pm on Monday.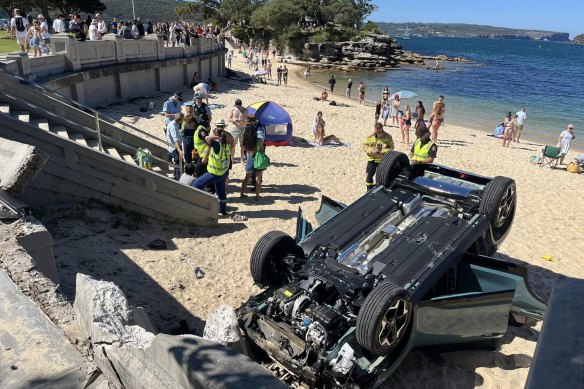 "Enjoying a fantastic morning and early afternoon in Balmoral when a KIA electric vehicle raced across the road, hit the curb, missed the seats and bins and then tore down the concrete wall," he posted.
"No one was miraculously hurt or hurt, only the front end of the car was shattered when it fell onto its roof."
New South Wales Police confirmed emergency crews were called to the Esplanade in Mosman after reports a car hit a concrete wall in a car park and overturned on the beach.
A 35-year-old female driver and a 55-year-old male passenger were able to free themselves from the car.
The driver was treated at the scene by NSW Ambulance paramedics for minor head injuries, while the passenger was uninjured.
Officers from the North Shore Police Area Command conducted a breath test on the driver, which returned a negative result.