Campbell Johnstone is the first openly gay New Zealand All Black
Loading
He went to some "interesting places" in his struggle for his own acceptance.
"I would keep pushing that side of me down," Johnstone told Seven Sharp.
Johnstone was at times plagued by self-doubt that he didn't fit the mold.
"It would surface when I might have had a bad game and I would look at that side of me and blame that side.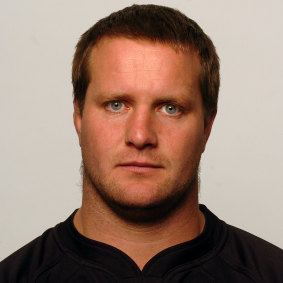 "And then there's the other aspect, that maybe I'm a little bit sad that we have to do this … but if I open that door and magically make that closet disappear, then we're going to help a lot of people."
Johnstone hoped an openly gay All Black could be one of the final pieces in the New Zealand sport jigsaw puzzle, showing that there is acceptance and that sexuality is normalized for all young athletes who succeed in their chosen sports.
Coming out publicly as the first All Black will put Johnstone's name in the spotlight, and he reluctantly believes he's ready to do so, knowing it will help others.
So, what was Johnstone's advice for a young athlete who might be struggling with the idea of ​​revealing their sexuality?
"There are rules, there is no law about coming out, you don't have to come out," Johnstone told Seven Sharp.
"If you feel like it's not for you, don't.
"The ideal of a rugby player, a crusader, is an honest, strong person, and the stronger you are… if you can make yourself stronger by reducing anxiety and stress, then you will fit into that mold."
– Stuff.co.nz
News, results and expert analysis from the sports weekend are sent out every Monday. Sign up for our sports newsletter.
https://www.smh.com.au/sport/rugby-union/it-can-actually-help-other-people-campbell-johnstone-is-the-first-openly-gay-all-black-20230130-p5cgmb.html?ref=rss&utm_medium=rss&utm_source=rss_sport Campbell Johnstone is the first openly gay New Zealand All Black