Camp Cope play their last gig in Melbourne
When someone in the crowd yelled "Play LCD" (Maq recently shared this LCD sound system All my friends was the most perfect song ever), she joked with a laugh, "I don't play any other C—s song on our show".
After everything they went through together, this moment was all theirs to share with their fans.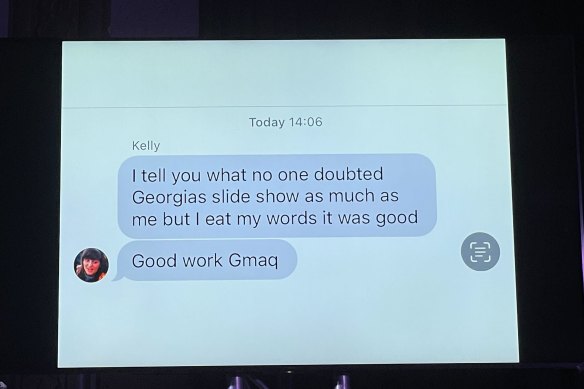 Before you play fan favorites from the first albumaround jet fuel cannot melt steel girders And Lost: Season OneMaq spoke of how embarrassing it was to perform songs she wrote when she was 19. She is now 28 and has evolved as a person.
Fan Elliot Stewart, who both attended the All Ages daytime show and arrived at Estonian House early in the evening, said it was "really sad" that the group was done but "they did what they came for".
"Anything they say is absolutely awesome for all generations to come, all girls, boys, everyone, whoever you are, whatever you choose to be," Stewart said.
"[And] As for what they mean to me personally, I've been through a lot of shit like bad breakups and such and such The opener and it all came out, back then, it really got me through a lot of shit… And whatever they do and wherever they do from here, they're absolutely going to kill it.
Another fan, Prue Andrew, commented on how connected the band was to the community.
"We like their vibe, like what they stand for, like they're local," Andrew said. "Your feminist energy is good."
Andrew's friend Nicola Shehan chimed in, adding, "Everyone can kind of relate to a part of them if you listen," while acknowledging that Camp Cope's breakup was upsetting but understandable after so many years together.
"You kind of get it," Shehan said.
Before they play the title track of their last album, Running with the hurricanesaid Maq, maybe it was about the end of Camp Cope.
The song is about embracing the chaos of life and learning to live with it and ride it.
"The only way out is up," sang Maq. "I can stretch my legs and walk. I take my seat and run with the hurricane."
Loading
She added that they would end for one very simple reason: because they wanted to. They would leave just as they came and built their careers: on their own terms.
But not without belting out the now infamous line, "Yeah, just book a female opener, it'll fill the quota." The openerand say good night.
"I'll miss it," Maq admitted. "But you know, good memories."
Her last words to the amazed, ecstatic crowd: "Find the three biggest bitches in your town and start a band… Because we're out."
A cultural guide to going out and making love in the city. Sign up for our Culture Fix newsletter here.
https://www.smh.com.au/culture/music/we-out-camp-cope-farewell-melbourne-in-intimate-show-20230312-p5crbq.html?ref=rss&utm_medium=rss&utm_source=rss_culture Camp Cope play their last gig in Melbourne