Business leaders look beyond China's COVID outbreak
Australian companies could escape the worst of the supply chain headaches caused by China's COVID outbreak, though they predict the Asian superpower will experience a "brief, sharp disruption" to its own economy.
KPMG Australia's Chief Economist, Dr. Brendan Rynne said he expects choppy-than-usual economic data from China in the first quarter of the calendar year after Beijing abruptly reversed its long-held zero-COVID policy that has sparked what may be the biggest coronavirus outbreak in the world.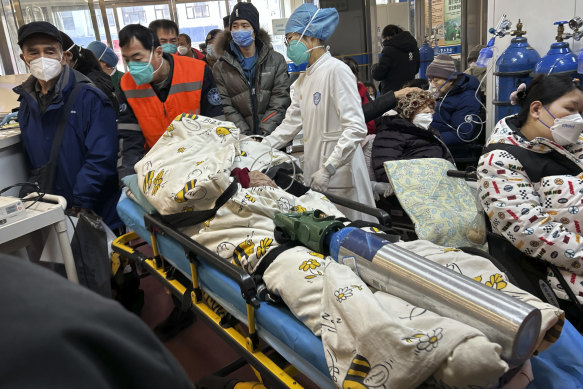 "The Chinese authorities were quick to rip off the pavement to basically allow COVID to force its way through the Chinese economy as quickly as possible," Rynne said in a media briefing on Wednesday.
"They will deal internally with the consequences of this policy action, but economically I think it causes a brief sharp disruption but then allows the economy to continue."
Rynne made the comments as KPMG released an annual CEO survey that addressed the top issues and concerns of nearly 500 executives and board members at major Australian companies. According to the report, the key concerns of the executives surveyed — which predated China's relaxation of its zero-COVID policy and the resulting outbreak in the country — were attracting good talent to companies, digital transformation, and managing cyber risks.
KPMG national chair Alison Kitchen told reporters on Wednesday that Australian retailers have already adjusted their supply chain model to ensure they are better prepared for problems caused by problems in our big trading partners like China.
"Most companies have said they really had two years of COVID to build better flexibility into their supply chain and with it a wider range of sources to source goods from. So while we've seen supply bottlenecks, it's not necessarily going to be dramatically more difficult for us here," Kitchen said.
"It may slow growth, but I don't know if it will create new challenges."
The comments come at odds with those of Federal Treasurer Jim Chalmers, who earlier this week described China's COVID surge as the "major risk" to Australia's economy this year, while local business leaders have told this imprint that they are anticipating logistics and freight issues to come prepare to peak later this month when the outbreak collides with the Lunar New Year and leads to widespread labor shortages.
https://www.smh.com.au/business/the-economy/short-sharp-disruption-business-leaders-look-beyond-china-covid-outbreak-20230104-p5ca8h.html?ref=rss&utm_medium=rss&utm_source=rss_business Business leaders look beyond China's COVID outbreak