Burleigh brings Iron Will to town for a dare
Trainer Tash Burleigh sees unbeaten three-year-old Iron Will's city debut at Warwick Farm today as a learning experience for both her and the horse.
The Goulburn trainer reckons she has an above-average gelding on her hands after two runaway country wins, and as much as the benchmark handicap of 64 Blue Point First Yearlings (1000m) is a nice transition, it's an opportunity for Iron Will, to gain some much-needed experience; and for Burleigh, to get an idea of ​​where his level might be.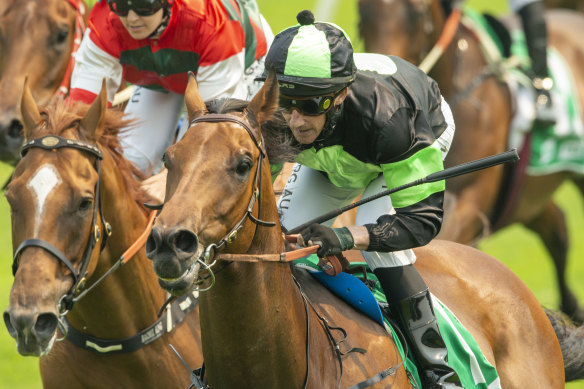 He debuted on his home track in August and won on a difficult track by four lengths over his early rivals. Then he showed up in Moruya a little over two weeks ago doing light work with a Class 1.
"He still has a lot to learn. It might be a little cold water for him, but he's ridden so well in his last two starts and made it so effortlessly," said Burleigh. "We want him to get involved and learn a little bit more and race really well so we have a horse for the future. "With a few more starts, we might find that he's a little bit better than a highway horse, or he could be at that level."
After jumping with them at Moruya, Iron Will shot under the pack to take the lead before extending the lead early in the straight and rolling out to a 1-length win that took a slap from jockey Billy Owen about 50 m from home.
Loading
Burleigh said it was noticed that the horse was on the straight and while she would be more than happy to lead again, she believes at least 1200m will not go past the horse, so she is hoping that the pace of a city race will allow him to relax more.
"He likes to watch other horses doing things on the other side of the track; The penny just has to drop with him," she said.
"Billy just has to jump and let him get up and roll along.
"Luckily there are some fast horses in it which is good, hopefully it should get him going and let him see what the race is about instead of just jumping to the front and running around like it's a trial."
https://www.smh.com.au/sport/racing/burleigh-brings-iron-will-to-town-for-test-of-mettle-20230103-p5ca3s.html?ref=rss&utm_medium=rss&utm_source=rss_sport Burleigh brings Iron Will to town for a dare