Bullying was taken seriously in schools 30 years ago. But has anything changed?
1993 became the Sydney Morning Herald published a study on school bullying. It was estimated that 10 per cent of children were affected, victims required "assertion training" and NSW public school curriculum officer Eleanor Davidson issued a decree to teachers telling them it was " appropriate" if they intervened they witnessed it.
"It's important for teachers to be aware of bullying and address it as soon as it starts," she said.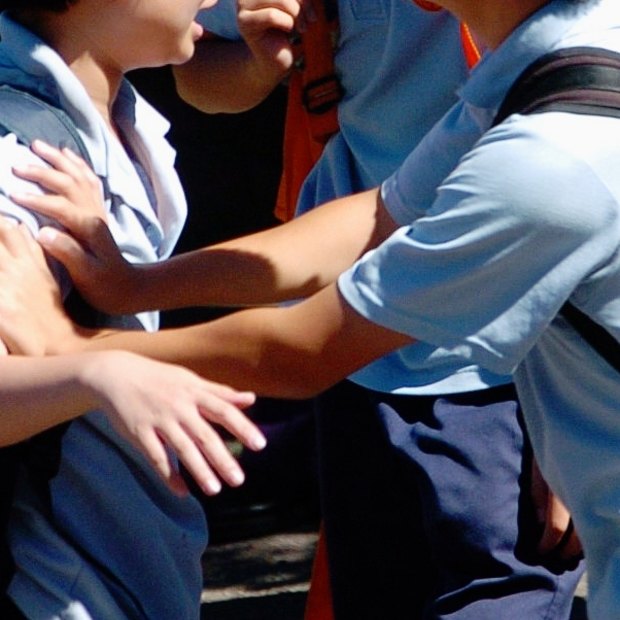 Almost 30 years later, teachers are more attuned to bullying. Public schools now ask students about it annually. Last year, a survey of 263,075 NSW public school pupils found that 27 per cent of primary school pupils and 24 per cent of high school pupils said they had been bullied in the previous four weeks.
Academic research into bullying was conducted in Scandinavia in the 1970s, but it took more than a decade for this to percolate in schools. A 1994 University of Sydney study found that NSW teachers had gaps in their knowledge of schoolyard bullying and were under-taught in teacher education on how to deal with it.
By 1996, the NSW Parents and Citizens Association required anti-bullying programs to be taught to school students. "It has to be a nationwide initiative," said then-President Ros Jackson.
A year later, the Bob Carr administration introduced a new policy. The students were the solution: peer mediation, where the children's leaders were taught strategies to resolve and avoid conflicts between classmates. There were rules – students were not allowed to gossip about what was said in mediation and had to be strictly neutral in discussions with disputing parties.
"The types of disputes that could be mediated in schools include gossip and rumors, verbal abuse, teasing, problems with student relationships, bullying, threats, fights and loss of property," said then NSW Education Minister John Aquilina.
By the late 1990s, lawyers were raising concerns that victims would sue their school for bullying, according to news reports one gay student had already done so, and school principals believed they could be held liable if they didn't act to prevent bullying.
Anti-bullying programs for teachers and schools proliferated over the following decades.
Despite the global ubiquity of the programs, Dr. Ken Rigby of the University of South Australia said that bullying had only decreased by about 5 per cent over the past 30 years – from 25 per cent of children who said they had been bullied in the past week to 20 per cent.
Rigby said the limited impact of the programs was because the reasons why a bully would target other students were complex, making them difficult to prevent. He said some studies have shown that many children came from families with authoritarian and abusive parents.
He also said that genetic influence is one of the factors that could make a student more likely to bully. Studies of fraternal and identical twins show that identical twins are more similar in bullying behavior, even when raised separately.
"Both the environment and genetics can play a role," he said.
Rigby, the author of Interventions for bullying in schools, said empathy training for children is another way to reduce bullying. "Teachers are mostly used to punishing the kids who bully – it sometimes works and it's necessary," he said.
"There are many other options that teachers are less aware of, such as B. Supporting victims with their social skills and working with groups of students who have been identified as bullies and their victims to restore relationships."
A spokeswoman for the Department of Education said she takes a zero-tolerance approach when it comes to bullying.
Loading
"We have policies and procedures in place to prevent and respond to peer bullying, including online bullying, to ensure our schools are safe places to learn," she said.
Psychologist Evelyn Field, who has written books on the subject and taught numerous children how to "block" bullies, said the instructions given to bullied students on how to deal with their bullies were wrong.
"This advice, 'Do nothing, walk away, ask the bully to stop,' is the advice that's been given for years — it's nonsense," she said. "We need to teach kids how to block a bully. It's about standing calm, collected and still – you don't walk away."
But is asking the bullying issue to change their behavior effectively blaming the victim? Not after Field.
"Wake up, life isn't fair. It's about understanding that none of us are perfect, we need to know how to deal with all kinds of people," she said.
Australia's eSafety Commissioner Julie Inman Grant said the number of reports of cyberbullying to eSafety, particularly since the pandemic, has increased steadily, rising from 338 in 2017 to 1828 in 2022.
"While the increase is worrying, it should be noted that our systems are acting as a safety net and the number of reports may also indicate greater awareness of eSafety and how we can help," she said.
Labor's ban on cell phones in public high schools begins in October, a move that has been welcomed as reducing cyberbullying.
In terms of preventative strategies, Queensland University of Technology professor Marilyn Campbell said that some anti-bullying programs vary in quality.
"Most anti-bullying programs are not evidence-based," she said.
Loading
She said the effectiveness of programs was often not measured by schools when they were implemented. Evidence-based anti-bullying programs like Friendly Schools — which teach children positive self-esteem, empathy, social skills, and conflict resolution — have not been a silver bullet.
"In programs like Friendly Schools, which have been extensively studied, there is a moderate change in the number of children who are victimized, there doesn't appear to be a large decrease in students who engage in bullying," she said.
She said it might be too ambitious to expect schools to be able to solve the problem.
"Bullying is everywhere in our society," she said. "No wonder we struggle to eliminate bullying in schools because it's so ingrained in our society."
The Morning Edition Newsletter is our guide to the day's most important and interesting stories, analysis and insights. Login here.