Brunswick home, once home of former Prime Minister John Curtin, for sale for $2.1-2.3 million
After living in Melbourne, Curtin moved to Perth in 1917 and became editor of the union movement newspaper, the Westralian Worker. In 1923 he and his wife Elsie built a house in Cottesloe, where he lived until his death.
He became involved early in the Australian Labor Party and was party leader from 1935 until his death in 1945. Curtin served as Prime Minister for four years from 1941 and led Australia for most of World War II.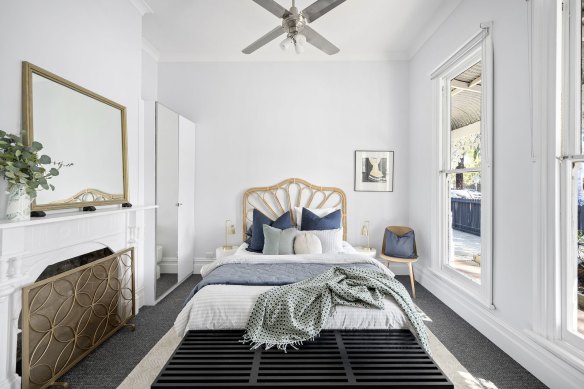 The house in Cottesloe, restored by the National Trust, is available for rent on Airbnb. It is available for long or short term rentals as per the listing.
Curtin's former Brunswick digs will be auctioned on Saturday March 25th.
Other former prime ministers' homes have also been sold in recent years.
In 2021, Gough Whitlam's former Cabramatta home in south-west Sydney sold for $1.15 million in a pre-sale.
The house was sold to a group of ALP stars, including Whitlam's son Nick Whitlam, who planned to turn it into a museum.
The four-bedroom fixer-upper at 32 Albert Street, Cabramatta was Whitlam's home from 1956 to 1978 and included his time as Prime Minister (from 1972 to 1975).
Meanwhile, the Altona home of Australia's first female Prime Minister Julia Gillard was sold at auction last April for $1.26 million – well above the $1.08 million to $1.18 million guide price.
Loading
The house at 9 Medford Street in west Melbourne was sold by a family who bought it from Gillard in 2013, the year her three-year tenure as Prime Minister came to an end.
Gillard bought the three-bedroom property for $140,000 in 1998 while also beginning her career as a member of the Bundestag.
https://www.smh.com.au/property/news/prime-location-former-pm-john-curtin-s-old-home-for-sale-20230303-p5cpba.html?ref=rss&utm_medium=rss&utm_source=rss_property Brunswick home, once home of former Prime Minister John Curtin, for sale for $2.1-2.3 million