Broken families, suburbs in fear when youths are armed
Walk around her house. death threats. A cellphone alarm goes off. Until it is no longer possible.
Silence.
Michelle Liddle and Ben Beaumont smashed their 15-year-old son's phone.
It was the only way to stop the ringing every morning. Her boy, Angus, was a tech kid, after all, and after his death not even the police answered his phone.
The ringing that had once reminded her son to go to school or work had become a reminder that Angus was no longer with them.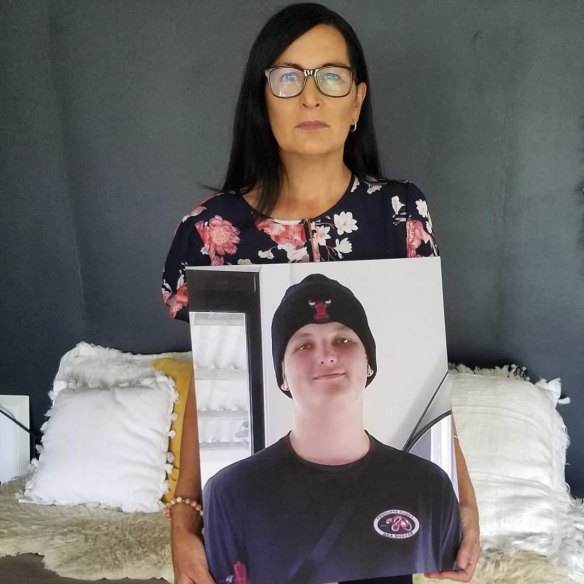 His parents say he was intelligent beyond his years, a 15ft boy who was taller than most and loved his food and rugby.
A boy with his whole life ahead of him, lost to a violent crime.
"It was all over in about 10 seconds," Ben says angrily.
Michelle then manages to speak through tears: "It was the most brutal thing to watch [on CCTV]."
On March 13, 2020, Angus was stabbed in the heart at a park in Redcliffe.
Both of his killers were 14. It was about 8 p.m.
"He was supposed to check in at 9pm," Michelle's voice breaks. "You know, as a mother, I rang the bell early."
The attackers, aged 16 and 17 when convicted of murder in October, each received less than 10 years in prison. One will appear as early as 2025.
Both teenagers had long parking tickets. Both had been repeatedly released on bail before the night Angus died.
And both have appealed their convictions for his murder.
"They'll come out in 2025, and we'll still have a dead child. Our family will still be ruined and Angus will still be gone.'

Michelle Lidl
A court was told that on the fateful night, the two attackers had argued with Angus' friend over a quantity of cannabis that the friend had previously sold them.
The couple followed Angus and his friend before the confrontation at Anzac Avenue Park.
Seconds before the boys attacked, Angus' friend had handed him a knife.
"He didn't even know what to do with it," says Michelle.
"He wasn't a delinquent boy. He was a nerdy kid who got into excellence programs at Redcliffe High, he was a computer engineer.
"He had worked with [his father] since he was nine years old. He worked in the lawnmower business and by the time he was 13 he had done an online inventory. He helped his older brother with taxes.
"He was a smart kid, he was so intelligent, he was such a character. When we went on vacation he wanted to do everything, taste every food, he wanted to see everything, he encouraged his brother to join us."
At the end of 2022, Angus' family celebrated his 18th birthday.
---
The killings of Angus and North Lakes mother Emma Lovell and Gold Coast teenager Jack Beasley, all said to have been committed by youths, have sparked uproar in the community.
Victims' families are demanding changes in legislation and the court system.
Some vigilantes are taking matters into their own hands.
Residents in upscale Brisbane suburbs have pooled money for private road safety.
Three days after Lovell's home invasion death, Queensland Premier Annastacia Palaszczuk announced measures to tackle juvenile delinquency, presented in response to community calls for help.
Experts denounced the announcement as a knee-jerk reaction that would have little, if any, effect.
Angus' parents say the measures proposed by the state government would do little to deter criminals or solve the problem unless the penalties were instead imposed sequentially rather than simultaneously.
"They say they have this under control and it's on the decline, but I think we can all see that it's not only escalating, it's crossing a line," says Michelle.
One of her son's killers had previously approached a mother on the street and threatened to kill her baby, and in another incident attacked and hit a girl with a scooter.
A little over a year before Angus' death, one of his killers was found with a knife while on bail for other crimes.
Authorities and experts agree that youth violence has many facets and a solution must involve many arms of government.
Police recently expanded their odyssey process conducted after Jack's death to search young people for guns, with crimes regularly committed by children wielding knives or other dangerous objects.
During the last summer holidays, the police arrested more than 570 young people for 1,408 criminal offenses as part of a targeted operation.
Home burglaries are also on the rise.
Queensland Police data shows more than 1,400 illegal entries into Brisbane in November last year, up from 854 in December 2021.
"It's getting into people's homes, this youth epidemic is spilling over into people's homes where they should feel safe."

Michelle Lidl
"It's getting into people's homes, this youth epidemic is spreading into people's homes, where they should feel safe," says Michelle.
"It doesn't matter if they showed up and even extended the sentence, if they don't have a minimum sentence, given the legislation in juvenile justice, the judge will still err at the lower end of the sentence Justice Act."
---
Angus Beaumont's family say money spent on rehabilitating young offenders has been misappropriated.
Building more prisons — with what they call a revolving door where children are thrown together with other offenders to be further criminalized — won't work unless the change is brought into line with an overhaul of the law.
"It's misappropriated money because they might as well throw it on the fire and burn it," says Michelle.
Angus' father wants the bail presumption restored and says consideration should be given to allowing victims' families to see details of the accused killers.
The family say they were never told by police at the time who allegedly killed their son because of privacy laws for juvenile delinquents.
Outside the court, the family was taunted after the sentencing and continues to suffer harassment years later.
"It's not the judges that let the system down, it's the system that lets down the judges," says Ben.
"Judges need more power to put these little idiots in jail for the crime they commit.
"Anonymity does not create accountability for these perpetrators."
Even school-based knife prevention programs aren't enough, the family says.
"A good child will not consume [a knife]' says Michelle through tears.
"A good kid won't want to harm anyone by doing it, and those other young kids who are repeat offenders—violent criminals with a keen criminal talent—will have no hesitation.
"There's no twitching there. No fear. They'll see your fear and you're gone."
At the end of the day, parents hope that their suffering will bring some good.
"We, as victims, shouldn't, in our worst pain, try to come out and fight for something that is just common sense and that everyone can see needs to be done," says Michelle.
"We just want this to stop. We want that to stop."
https://www.smh.com.au/national/queensland/knives-out-families-broken-suburbs-in-fear-as-youths-go-armed-20230105-p5camj.html?ref=rss&utm_medium=rss&utm_source=rss_national Broken families, suburbs in fear when youths are armed