Brisbane Lions in the Premiership window and Chris Fagan is under more pressure than ever
Fagan is still stung by it. "It lacked class and it didn't reflect how many conversations I had with him during the season," he says. "I've been preparing him all year for this to be your last year, mate. It was something I thought about a lot and didn't take lightly, but the team had to come first."
Fagan's injury, however, reveals a greater truth: his affection for Robinson, who joined the Lions after Carlton fired him in late 2014, the collapse as a "misunderstanding" from which he has since moved. He declined to comment further.
More tough decisions await Fagan this year. His midfield is stacked, and Josh Dunkley's draft from the Western Bulldogs is putting pressure on his center midfielder, Jarryd Lyons. For the Lions, Dunkley is a godsend: big-body, hard-fighting and at the peak of his career, having won the Charles Sutton Medal in his senior year with the Western Bulldogs.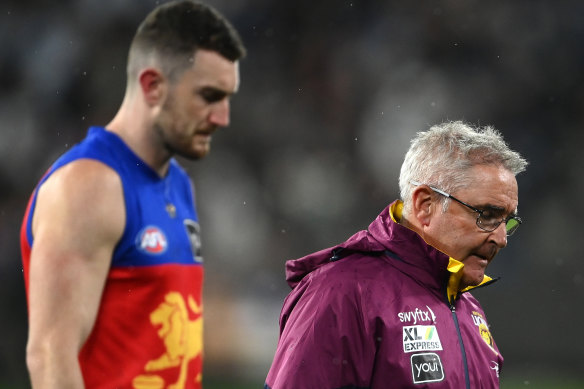 The Lions finished 10th in the points competition compared to last year. That might sound worse than it is – the stat is somewhat overshadowed by two dreadful losses to the 2021 Premiers in Melbourne – but it reveals a structural problem Fagan concedes. It wasn't the back six but the team's ability to defend the entire floor.
Dunkley is one of the best defensive backs in the competition, something the Lions have identified as their most glaring weakness. "Some of our guys will run hard both ways, but [didn't] have the speed, so we had to incorporate that combination of speed and endurance into our team," says Fagan.
Loading
Assuming Dunkley plays the majority of his football in center court alongside Lachie Neale, the Lions have a new depth around the ball that will be difficult to combat. Another bigger body, Jarrod Berry was a turning point when he switched to a furious Clayton Oliver in last year's semi-final against Melbourne. Hugh McCluggage created his insider game.
And then there's Will Ashcroft, the most hyped father-son prospect since Collingwood's Nick Daicos last year. In practice games against Geelong and Sydney, Fagan says, "Ashcroft had good numbers, played strong, could win contested balls, so there's no sign he can't play AFL football for a full year this year."
Last year, the Lions missed out on the top four but came from behind and won two thrilling finals, including beating Melbourne at the MCG. Her ability to win such games has long been questioned. For Fagan, that meant two steps forward, not steps back. "I'm a half-full man," he says. He admits his team also had a bit of luck that previously eluded them.
He points to Geelong. "They've been knocking on the door for 10 years [after the 2011 premiership] before they get their next chance to win it," he says. "And they played finals regularly, they probably lost more than they won, there were also those doubts about Geelong… All those lessons they had over those years came together to help them win [last year]."
He doesn't need to drive his troops home their time is now. "They were all skinny guys walking around five or six years ago. They're die-hard AFL players now, so I think that's the expectation they have of themselves. We've been close over the past four years, growing closer, and the last few steps are always the hardest."
Stay up to date with the best AFL coverage in the country. Sign up for the Real Footy newsletter.
https://www.smh.com.au/sport/afl/great-expectations-why-fagan-is-under-more-pressure-than-ever-20230312-p5crcr.html?ref=rss&utm_medium=rss&utm_source=rss_sport Brisbane Lions in the Premiership window and Chris Fagan is under more pressure than ever