Brandis blind to Liberals' real problems
I agree with George Brandis that the Liberals have lost their suburban, metropolitan-dwelling, more liberal multicultural voter base. Poor governance is also to blame, and he seems to have completely forgotten that Tasmania is still part of Australia. ("Why is the Liberal party in the doldrums? It's all about geography and demographic shifts", May 15). Tasmania, a rural state, bucked the trend at the last federal election, electing moderate Liberals such as Bridget Archer. The only state Liberal government remaining is dominated by moderates; however last week's deal between the Tasmanian premier and the AFL to build an unaffordable $750 million AFL stadium on prime Hobart harbour foreshore will result in the demise of the last Liberal government in Australia. Ailie Bruins, New Town, Tasmania
George, it wasn't geography and demographics that kept your party out of government, it was poor policy and incompetence. Scotty from Marketing didn't help either. John Bailey, Canterbury
The Liberal Party in the doldrums has less to do with geography and demography and more to do with ideological shifts within the party. The proud party of Menzies was never as conservative as it is today. Yes, it supported business but also ordinary families, which is why he was so admired and successful as PM. My suggestion would be the Liberals of today do a lot of reading up on Menzies, his thoughts and plans for a new Liberal Party. Glenys Quirk, Forster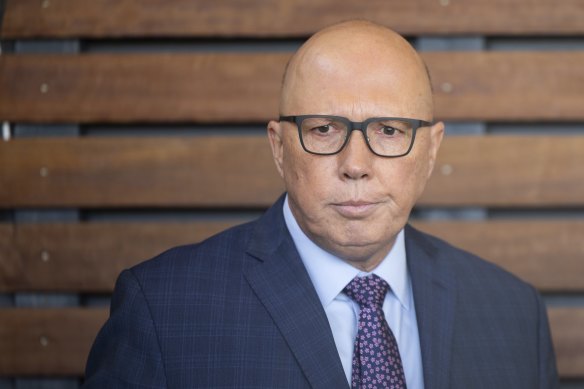 Brandis may appear to be taking a reasoned view of the state of the Liberal Party, but his bias is showing. Despite his many excuses, the Libs have simply lost touch with a large part of their voter base. They don't appear to be prepared to admit that their drift to the right is not popular with voters. Their negativity on a number of issues, particularly climate change, has ensured that better informed voters have left them behind. Derrick Mason, Boorowa
Brandis makes some accurate comments about the geography and demographic shifts that are detrimentally affecting the Liberal Party's electability. However, he fails to address the elephant in the room and that is the quality of the Liberals – and indeed the Coalition's – front bench team.
They are clearly not fit for purpose as a viable alternative government. It is difficult to see how this issue can be improved in the short to medium term, no matter what analysis of voter demographic is undertaken. David Boyd, Bondi Beach
Dutton is dog whistling to an older, conservative regional group. In doing so, he is alienating himself and his party from the rest of Australia. The next election will be a lay-down misere for Labor. Nicholas Triggs, Katoomba
It's not too late to put affordable housing in the city
The premier's quest for public land for homes misses the point. In the inner city there is still public land available, but for private, not public, housing ("Minns seeks public land to rezone for homes", May 15). In Pyrmont, the previous government proposed to hand over the current Sydney Fish Markets site at Blackwattle Bay for private development, involving 36-storey residential towers above bulky podiums. It is not too late for the new government to require 30% of any development on this site to be public and/or affordable housing, owned and managed by public government agencies. There are similar opportunities to reduce the huge waiting list for public housing by making available publicly owned land in the Bays West Precinct in Rozelle, plans for which have not yet been finalised. Elizabeth Elenius, Pyrmont
There appears to be no limit to the contempt that the Coalition has for the poor and disadvantaged. We now learn that the previous state government managed to flog off 7,628 public houses to wealthy buyers, but only built 4,500 replacements ("Coalition sold off billions of dollars of public housing stock", May 15). Thus, the new Labor government faces a huge housing backlog before it even begins to build for the hundreds of thousands of planned new tenants, not to mention homes for urgently needed frontline workers who need affordable housing right now. The current housing crisis will get even worse – expect even more homelessness, skyrocketing rents, increased social inequality and declining mental health. John Mackay, Asquith
Once again the LNP shows their contempt for anything with the word "public" in front of it. Whether it's housing, transport, health, education or broadcasting, the only conclusion that can be drawn is that the Coalition is a public menace. Phil Bradshaw, Naremburn
The Herald's expose into the rapacious flogging of billions of dollars of public housing stock invites the question – how many public houses were built using the proceeds of the 2019 Sirius building sale for $150 million? Mark Paskal, Austinmer
While it may be true that removing tax benefits for rental properties would lead to many being sold, thus causing a drop in property prices, ("Letters",May 15) I wonder if that would be an entirely bad thing. If property prices reduced substantially then many people currently locked out of buying would be able to get into their own property and property investors would do so with a more long-term view. That could mean more entry-level housing at affordable prices and maybe not so much difference to the rest? Or possibly since the price of buying was less, even slightly lower or at least stabilised rents? Sheryl Black, Coffs Harbour
Your correspondent sees negative gearing of residential property as preventing homelessness. This is an interesting 'take' on this vexed and contentious issue. When budget week has come and gone like last week's news, and sources of revenue vital for the ongoing maintenance of society highlighted, to allow residential property investment costs to be claimed against all sources of income to avoid tax, is favouring a few to the detriment of many. John Kingsmill, Fairlight
Opera House still has its secrets
Louise Herron ("Brave hearts put our Opera House on the world stage", May 15) rightly claims the Sydney Opera House was an unlikely miracle; so much so that Utzon was surprised when it proceeded. But the design miracle she keenly boasts about lies hidden from view underfoot beneath the floors of the Concert Hall and Opera Theatre. The roof "sails" – heavy thick concrete rib vaults – are not remotely like the ones proposed in the Red Book of 1959 which used parabolic geometry, echoing Eero Saarinen's Jefferson Memorial arch in the mall at St Louis, Missouri. Almost nothing is known about the origin of the Utzon design, beyond the fact that it was a late entry completed in a rush at the last minute with collaborator and Swedish architect Erik Andersson. After 50 years, isn't it time the Opera House supported a genuine research effort into the origin and inspiration of Utzon's design? Before any further tampering and "improvements" are undertaken, should we not have answers to fully understand its essence? Philip Drew, Annandale
Loading
When I attended a test concert at the recently completed Sydney Opera House on April 1, 1973, the current valuation of $6 billion would have been inconceivable. After an initial budget of $7 million, the final cost was more than $50 million and everyone was just glad to see it finally finished. Back then, after so much controversy, the interior seemed gloriously luxurious. Photography was permitted and I still have slides of the sparkling pink seats, the soaring concrete arches overhead, the tall flutes of the organ, the harbour view from the North Foyer, even the glass doughnuts over the stage. It's the Sydney icon beloved by Australians and what all tourists want to see and photograph. It's recognised all over the world. Who could possibly put a valuation on that? Judith Rostron, Killarney Heights
Parental guidance recommended
My father never taught me all that much about women, but he did impart one crucial lesson to me when I was a teenager: women are people, not meat ("The truth about porn and our teens", May 15). I've never forgotten that conversation. Even if pornography is teaching teenage boys the wrong lessons about sex, the bigger problem is ineffectual fathers failing to teach their sons the right ones instead. Children should be learning from their parents, not from the internet, and the onus should be on the adults responsible for their upbringing. James Short, Belmore
Pornography is poorly regulated, and no doubt wishes to remain so. Five billion accessing porn per month, or 62 per cent of the world's population, is BIG business. Now the evidence is out that porn harms children and women and "regulation" left to parents and schools is ragtag. It sounds like a job for government to introduce legislation to minimise harm to our population. Anne Matheson, Gordon
As easy as ABC
What is this obsession that the ABC has with appealing to younger audiences ("ABC needs to shift the radio dial to win audience", May 15)? Does it not realise that there were good reasons for why my generation stayed loyal to the ABC from the time we were teenagers? None of those programs we enjoyed then were particularly targeted at young people, apart from the rock station 2JJ, and GTK and Countdown on TV, but they were appealing simply because they were innovative, challenging, intelligent and well-made. The ABC's focus now should be on content – attracting talent in programming, journalism and broadcasting, producing the best in local content, buying quality overseas programs or imitating their formats. It should avoid the slickly commercial, the superficial appeals to a "wider audience" and the tedious self-promotion. Only then will it differentiate itself in the marketplace by being a consistently high-quality service that justifies its existence and contributes richly to Australian society. Lyndall Nelson, Goulburn
It's good to see at least one ABC person commenting on the loss of ABC radio "dedicated listeners". What has driven us away? Ads, ads, ads ad nauseam. ABC, if you're going to promote the ABC, promote it on commercial radio and TV. Your dedicated listeners are already listening: well, we were. Music programs filled with endless chatter instead of music. Two, or even three, announcers having a talkfest among themselves, instead of announcers who know how to genuinely talk to the audience. On TV, a truly disturbing voice that, within milliseconds of program credits rolling, shouts mindless inanities at us. Usually something about an "explosive" forthcoming episode. What has exploded is ABC's quality. Peter Thompson, Grenfell
The article on the ABC's declining ratings in radio is interesting but fails to address a core problem with the ABC generally in the minds of mainstream Australia – it is Sydney-centric. A former Victorian ABC News director observed in 2018 that the news bulletins in all states are directed by the newsroom in Ultimo. The diminishing group of ABC radio listeners in the other state capitals have tired of this Ultimo provincialism and bulletins that lack relevance to the 21 million mainstream Australians. The problem extends to television news services (particularly the news channel 24) which, in their contents and tone, are even more markedly driven by an Ultimo perspective. A capacity to produce a balanced federal news service that is relevant to the 80 per cent of the nation that lives beyond Sydney seems to be impossible. Sydney listeners/viewers may not see this – the ABC is producing a product for them, instead of Australia. Whatever the outcome of Ultimo navel-gazing, I suspect nothing will change, other than for the worse – and ratings will decline further. That the ABC is proposing to relocate some operations to Parramatta, says it all really. Brian Kidd, Mt Waverley
Out of step
I don't care what John Howard thinks. He probably doesn't care what I think. But to say sports people should not comment about the Voice is bloody political censorship. He always was out of date and out of time. Witness same-sex marriage, the rise of feminism and the struggle of transgender people. John and his band of conservatives always back the wrong horses. I wouldn't take him to the races. John Rome, Mt Lawley
Fresh start
Sean Kelly says Opposition Leader Peter Dutton has benefitted from the oddity of when an MP becomes leader of a major party we "let them start again ("Dutton still has his dog whistle", May 15)". However, cannot the same be said of Anthony Albanese who has reincarnated to a centrist prime minister? Previously, he was a warrior of Labor's socialist left who only 11 years ago said "I like fighting Tories. That's what I do". Riley Brown, Bondi Beach
Meagre inspiration
It's a tough ask, Louise Herron, to encourage today the same adventurous spirit that brought us the Sydney Opera House. Today we're ruled by the dollar, not the spirit. Greg Baker, Fitzroy Falls
Pole-axed
I don't have the intellect to appreciate Pollock. Tim Wynn Jones, Homebush
Home and a weigh-in
The news of a net loss in public housing is dispiriting.
It is one thing to fail to make a difference on homelessness, it's another to bank the money and go home to a warm house full of food. David Gunter, Surry Hills
Go bigger and go better, Premier. Increase the target to 50 per cent of all new homes on public land to be social, affordable or community housing. Geoffrey Williamson, Woollahra
Minns is set to rezone existing public green space to house the migrants under Albanese's plans. The alternative is to clear new land. Neither is an option to my liking.Jenny Greenwood, Hunters Hill
Which came first? The housing shortage or the tradie shortage? Eric Sekula, Turramurra
Taxing credulity
Perhaps Labor is deferring to a more ancient authority than Keynes (Letters, May 15) in sticking to the stage three tax cuts: "Though the sky falls in, we won't change our mind". Meredith Williams, Northmead
The digital view
Online comment from one of the stories that attracted the most reader feedback yesterday on smh.com.au
"Tax Office to crack down on landlords, capital gains, work-related tax deductions"
From MJ: "Tax avoidance is a big deal in Australia. Although I'd like to see the ATO chase big corporate offenders who hire people to purposely exploit loopholes."
To submit a letter to The Sydney Morning Herald, email letters@smh.com.au. Click here for tips on how to submit letters.
The Opinion newsletter is a weekly wrap of views that will challenge, champion and inform. Sign up here.