Brain Eisteddfod, Mad As Hell and turns 60.
In an industry that relies heavily on the principle that once you find something, do it forever, Shaun Micallef has long raised the flag for the virtues of creative restlessness. His longest-running project, Damn angryWhile he's nearing his 15th season — and his last, he recently confirmed — the man has never settled on a single option. Over the years he's coughed from project to project, perhaps more so over time than ever MAHwhen he's been diligently pursuing whatever pops into his head between seasons, be it documentaries, plays, books or, in its latest incarnation, a game show for high schoolers.
Brain Eisteddfod is this show where impeccably uniformed teenagers compete in quizzes tailored to the 11th grade curriculum for the glory of their schools. For Micallef, a man who has so far shown little inclination to contradict the wise words WC Fields never said about working with children or animals, why this particular twist?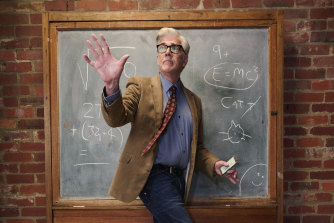 "I just wanted to do something with a little joy," he says. "Something that wasn't cynical or shouldn't be construed as cynical. I do not think so Damn angry is cynical, I think it's more skeptical, but the perception is, 'oh yeah, all these kinds of shows are cynical'. I just wanted to do something a little bit different." On the appeal of a school-age show: "I'm approaching 60 – I'll be 60 in a few weeks – and my own kids are a bit older [of the contestants on the show]. I think I wanted to explore that age group. I thought that's an interesting age group that we don't see often on TV and when we do, it's representatives of that age group played by 21-year-olds."
Previously, Micallef has been messing around with cross-generational curiosity — and with a game show format Talk about your generationthe hit absurdist panel quiz which, in two incarnations on two different channels, brought Australian audiences a sense of madness rarely embodied in local productions. Brain Eisteddfod is another matter: the questions are about real facts, the competition between the schools is real, and Micallef – although he's still very clearly Micallef – occupies a role that's much closer to a slightly eccentric headmaster than that irrepressible spirit of chaos he continued to channel generation. The new show also doesn't have a studio audience: an aspect initially accepted due to COVID restrictions, but one that proved valuable in developing the show's feel.
"[With no audience] It's really chatty as people don't have to play on the gallery or feel like they're being judged. It also makes me a little bit different from who I am generation and Damn angry also – a whole bunch of different muscles. If something is laughed about, then it's about the interaction with the young people: real nonsense talks, like I would probably have with my own children."
Indeed, compared to Micallef's established TV personality – who fluctuates between mania and haplessness depending on the show, with a penchant for Kenneth Williams impressions and surrealistic highs – Eisteddfod finds him in a character who comes chillingly close to being… well, Shaun Micallef. The fact hasn't escaped his notice: "In a way, I'm more than I've ever been," he admits.
It seems to be an ongoing theme in his career: over the years he seemed increasingly interested in being himself on screen. Gone are the days when he played a variety of characters in sketch comedies and sitcoms, while more personal projects like his thoughtful documentaries on religion and alcohol are taking up more and more time.
https://www.smh.com.au/culture/tv-and-radio/after-15-seasons-of-mad-as-hell-shaun-micallef-finds-a-show-with-joy-20220712-p5b0yp.html?ref=rss&utm_medium=rss&utm_source=rss_culture Brain Eisteddfod, Mad As Hell and turns 60.