Boys lag behind girls in global reading tests
However, boys in NSW lag far behind girls in literacy; The gap has widened over the past decade. In 2021, female students achieved an average of 553 points, 25 points above the average for boys. In the 2011 results, there was no statistically significant difference between boys and girls.
Jordana Hunter, director of the Grattan Institute's education programme, said Australia has set itself low targets and while the country has not taken a step backwards, the results are by no means cause for celebration. "I think Australia has got used to accepting a poor performance… we should raise the bar," she said.
Hunter said teachers need to look out for signs that boys are lagging behind in reading. "It is deeply worrying that boys as a cohort are lagging so far behind girls. Statistically, they fall through the cracks."
Federal Education Secretary Jason Clare said it was good news that Australia has not backed down during the pandemic as 21 countries have done so, according to the report.
"However, the report also confirms what I said about the gap in reading skills between children from wealthy and poor families. This is serious and shows why real reforms are needed," he said.
Almost a third of Australian students from the most disadvantaged schools failed to meet the performance requirements, compared to just 13 per cent of students from the wealthiest schools.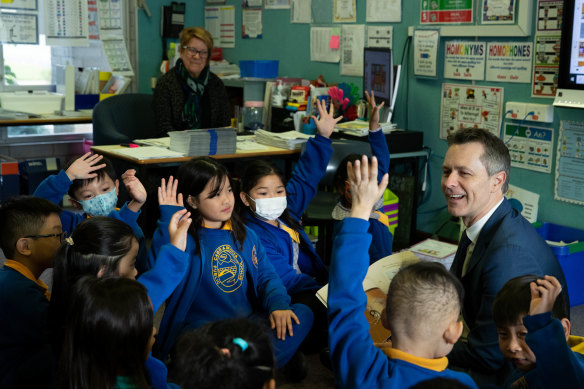 Glenn Fahey, director of education programs at the Center for Independent Studies, said the stable results may still disappoint many in the education sector because investments in early reading programs have not resulted in better outcomes for students.
The Australian Council for Educational Research, which conducts the on-site testing, said there has been no improvement in the large performance gaps among Indigenous students, students in remote areas and children from low socio-economic backgrounds since 2011.
The council's senior researcher, Kylie Hillman, said in practical terms this means these students are struggling with areas of their schooling that go beyond reading.
"It's worrying that we have so many young students who are unable to transition to reading to learn," she said. "They are still at the point where they have to grapple with the mechanics of reading and are unable to fully understand and engage with what they are reading."
The report also found that the percentage of teachers who said they were "very satisfied" with their work fell from 58 percent in 2016 to 49 percent in 2021.
New South Wales Education Secretary Prue Car said it was disappointing to see the significant drop in teachers' job satisfaction.
"I am committed to improving the conditions for teachers to love their work, which in turn leads to better outcomes for students," she said.
NSW opposition education spokeswoman Sarah Mitchell said the results meant improving student outcomes must be a top priority for the new government.
"So far, the Minister of Education has been silent about what she will do to improve student outcomes," she said.
Loading
"This data also shows why it is so important to continue small group teaching in schools, as it is one of the best ways to support students who need additional help."
More than 400,000 students worldwide took the tests in 2021. In Australia, nearly 5,500 students from 281 schools took part.
With Adam Carey
The Morning Edition newsletter is our guide to the day's most important and interesting stories, analysis and insights. Login here.