Bosses say nearly half of meetings should go away
Tired of attending useless meetings? It turns out your boss is probably sick of them too.
Executives spend an average of 25 hours a week in meetings, yet nearly half of those Zoom calls and project updates could go away without ill effects, according to a survey of more than 10,000 desk workers by the Future Forum, a Salesforce-backed research consortium. owned by Slack Technologies.
The number one reason business leaders go to unproductive meetings is because they thought it was a good use of their time, but ultimately it wasn't. They also participate because they are afraid of missing out on something important and to show their own boss that they are working, according to the survey. For those lower down the corporate ladder, the most common reason for showing up is obvious: you have no choice.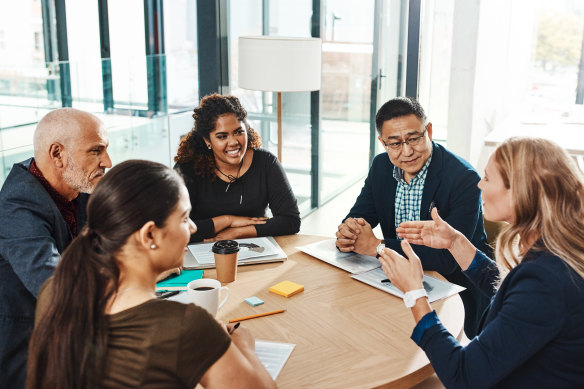 The findings come as many organizations try to assess which meetings really matter and which could be jettisoned in an increasingly hybrid workplace where employees aren't typically all in the same place. Shopify, the Canadian e-commerce site, said it's on track to eliminate 320,000 hours of meetings this year by ending all recurring meetings of more than two people, banning meetings on Wednesdays, and restricting large gatherings, altogether with staff encouraging them to decline some invitations.
Reluctantly going to uncritical meetings wastes about $100 million ($150 million) annually at large organizations, according to a separate survey, which also found workers decline just 14 percent of invitations, though they prefer to do so at 31 percent would dispense cents from them.
Loading
The share of virtual one-on-one meetings rose from 17 percent in 2020 to 42 percent last year, a study by collaboration analytics firm Vyopta of 48 million meetings found, a sign companies are trying to limit attendees at least, if not all sessions. And workplace scheduling apps like Calendly report that some of their customers are getting smarter when it comes to scheduling more meetings that really matter.
Non-executives spend an average of 10.6 hours a week in meetings, the Future Forum survey found, and says 43 percent of that could be eliminated. Common tactics for reducing meeting congestion include trimming the invitation list, sending out agendas in advance, and making sure the actual meeting covers a set of hot topics, not just a list of topics.
"There is no one-size-fits-all approach to eliminating unnecessary meetings," said Brian Elliott, a Slack senior executive who oversees Future Forum research.
https://www.smh.com.au/business/workplace/bosses-say-nearly-half-of-meetings-should-disappear-20230314-p5crvn.html?ref=rss&utm_medium=rss&utm_source=rss_business Bosses say nearly half of meetings should go away