Book review: Speculative fiction and non-fiction
Find me, my enemies
Michael Wilding, Arcadia, $32.95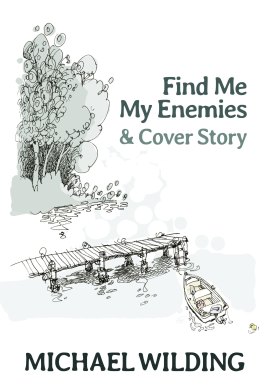 Two plant novels – Find me, my enemies And cover story – for the price of one: you can't argue with that. Michael Wilding's comic creation Keith Plant is a private investigator like I am a critic: he slipped in and never got out. Anyone with two brains could enjoy these novels, although they are admired by literary insiders and academics because they are written to literary standards, while being so clever and sordid and dirty that they feel like a guilty pleasure . In pretty much every case Plant takes on, he stumbles down a rabbit hole or two, and each detective story degenerates into an uncompromising satire of some aspect of Australian society or culture. Find me, my enemies involves the obligations of hippieism and possible secret agents who may be targeting an aging radical (or maybe it's just too much weed).
Weyward
Emilia Hart, HarperCollins, $32.99
The witch panics of early modern Europe were a complicated social phenomenon, and it is historically incorrect to imagine that they were caused solely by patriarchy and the oppression of women.
Fiction plays by different rules, as does the current fashion for witch-lit shows. Emilia Harts Weyward draws a supernatural line between Altha, a witch-haunted Cumbrian sage from early 17's Great-Aunt Violet, who in a 1940s timeline attempts to uncover the truth behind her mother's death while defying her controlling father.
Weyward traces a grim genealogy of misogyny and domestic violence and contrasts it with women who are supernaturally attuned to the natural world. Marketable, of course, but that oddly simplistic blend of trauma and fantasy (and especially the dialogue) feels hastily sketched.
Nonfiction books of the week
Gen Fd
Alison Pennington, The Crikey Read, Hardie Grant, $24.99
Economist Alison Pennington is a no-nonsense one, and when she targets neoliberalism – whose greatest gift to the most educated generation in Australian history is a massively insecure gig economy – she hits the nail on the head.
The eponymous Gen F'd (anyone under 35) must negotiate the damage caused by 40 years of greed-fueled capitalism while still being fed the idea of ​​fair go.
But Pennington, in what often reads like a rousing, hopeful call to arms, believes it can be recreated. We have already done so in the post-war rebuilding period, notably under Labor and Nugget Coombs, and it is within this framework that she is proposing legislation for more job security, stronger unions, more public housing, revitalizing public education and more.
The god of nothing
Sita Walker, Ultimo Press, $36.99
The fundamental question that runs through this impressive debut memoir is how to live a good and meaningful life – without God.
Brisbane writer Sita Walker was raised by her parents in the inclusive Bahai religion, specifically the commandment of kindness.
She has an admirably light, sometimes humorous touch in dealing with these weighty subjects, and incorporates a family history that spans three generations (the narrative constantly shifts between past and present, almost as if the two are happening simultaneously).
She often vividly re-enacts the past, capturing the dramatic fallout of divorce and falling in love again on a dating app. The everyday and the eternal mingle; in the end, she articulates beliefs that amount to a kind of existentialism.
Why we sing
Julia Hollander, Allen & Unwin, $34.99
For Darwin, it was all about sex. singing, that is. When birds sing during mating season, it helps the species survive. But why do they sing out of season?
Singing therapist Julia Hollander references — often to birdlife — particularly as they did during the pandemic, in this vivid analysis of why people erupt in song. Because we can – to woo a partner, to communicate with a child. There's no reason for that, but what she found from watching choirs — she's interested in community singing — is that choristers' stress levels are low and their immune systems are less depleted after singing.
Hollander weaves in her own story, particularly the birth of her severely brain-damaged second child and a different way of singing.
Structured around the four seasons of life, this is an engaging, fascinating look at the joys of singing – even if it's just in the shower.

O'Leary from the Underworld
Kate Auty, La Trobe University Press, $34.99
In this detailed case study of a border atrocity, Kate Auty speaks of the need to tell the truth nationally, and her account is a dramatic example of this.
The crime she is investigating took place in Kimberley in 1926, the case a tangled web of lies and deceit – the central character, who called himself Bernard O'Leary, portrayed as a brutal bullshitter who played a leading role in the murders. A white station owner had been speared to death and a squad (including O'Leary and two police officers) set out for revenge – eventually slaughtering 20 innocent Aboriginal people.
Two police officers were charged (later dropped) with murder, but O'Leary was never charged. The trial and royal commission that followed the massacre uncovered a web of false testimony and duplicity. But thanks to Auty's hard work, the daughter of time, the truth, is finally revealed.
https://www.smh.com.au/culture/books/brilliant-speculative-fiction-and-how-to-live-a-good-and-godless-life-20230306-p5cppj.html?ref=rss&utm_medium=rss&utm_source=rss_culture Book review: Speculative fiction and non-fiction