Bomb explodes in the cathedral
First published in The Sydney Morning Herald on 04/18/1973

Bomb explodes in the cathedral
A powerful bomb exploded during evening mass at St Mary's Roman Catholic Cathedral yesterday.
The bomb shattered about 10 heavy wooden pews, badly damaged about six confessionals and shattered stained glass windows at the south end of the cathedral.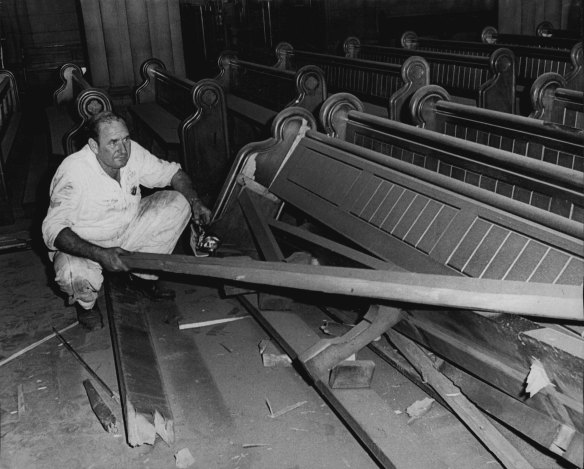 Broken glass was thrown on Father W. Dougherty, who was listening to a woman's confession at the back of the cathedral.
Nobody was seriously injured.
A Central District paramedic said he believed one person was slightly injured by flying glass.
The bomb, believed to be made of gelignite, was the fourth to detonate in Sydney in four days.
Police last night were looking for a man who had exited the cathedral just before the blast.
They described the man they wished to interview as 6'1″ to 6'2″, well built, 25 to 30 years old, with thick dark brown hair of medium length and a full beard. He was dressed in dark clothing and carried a square, dark brown leather bag.