Biosecurity measures against foot and mouth disease can start today at Australian airports
International passengers arriving in Australia could be forced to check their shoes or walk over sanitary mats in enhanced biosecurity measures, which could be confirmed today – as the federal government looks at ways to prevent a local outbreak of foot-and-mouth disease.
Agriculture Secretary Murray Watt said tougher new measures, which had never been introduced before, were under review and could be confirmed as early as today.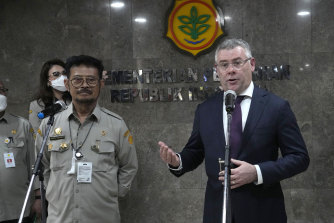 He said the new controls would include biosecurity zones at airports, where all passengers may have to comply with new measures, including having their shoes cleaned.
The government announced earlier this week that hygienic floor mats would be rolled out at airports where passengers disembark from Indonesia.
"The difference with these new powers is that instead of being able to ask individual passengers to do certain things and relying on their consent, if introduced, these new powers would apply to all passengers when circumstances warrant it," he said Watt.
An outbreak of foot-and-mouth disease, which causes lesions and lameness in livestock, would devastate Australia's agricultural sector. A single detected local case could lead to widespread animal culling and a halt to livestock movements to contain the disease.
It would also shut down the international meat trade until Australia was disease-free again.
Loading
Watt said the proposed measures, which could include installing new biosecurity infrastructure at airports, have never been introduced in Australia before.
"Well, this is the first time these powers have been used under Section 365 of the Federal Biosecurity Act. These powers have been available to the Australian Government for the past seven years and have never been used. Once in place, we would be the first government in Australian history to use these powers to direct all passengers to comply with biosecurity requirements."
Break through the noise of federal politics with news, perspective and expert analysis from Jacqueline Maley. Subscribers can sign up for our weekly Inside Politics newsletter here.
https://www.smh.com.au/politics/federal/strict-new-airport-biosecurity-screening-for-foot-and-mouth-could-begin-today-20220722-p5b3ox.html?ref=rss&utm_medium=rss&utm_source=rss_politics_federal Biosecurity measures against foot and mouth disease can start today at Australian airports