Berrick Barnes and Scott Wisemantel work alongside Wallabies manager Eddie Jones ahead of the 2023 Rugby World Cup
Former Test quintuplet Berrick Barnes is in talks to reunite with his first professional rugby coach as a star addition to the Wallabies' backroom staff, while former attacking coach Scott Wisemantel has agreed to help out his old boss Eddie Jones.
Barnes is believed to be in discussions with the Wallabies and Super Rugby clubs over skills and a kicking role similar to the one he recently took on as a consultant for Newcastle in the NRL.
The 51 Test playmaker, who played nearly 50 games for the Reds and the Waratahs before moving to Japan to play under Robbie Deans at Panasonic for five years, met with Jones 10 days ago.
Barnes is close to Wisemantel, with both men based at Lennox Head in north NSW and regularly sighted at the local rugby club.
Wisemantel has also agreed to help the Wallabies as a consultant but has no plans to return to the program full-time, having left last year for family reasons. The 52-year-old was Jones's attacking coach at England and, along with then-forward coach Steve Borthwick, was instrumental in England's stormy road to the 2019 World Cup final.
He then provided his services to the Wallabies under Dave Rennie and, while not interested in a formal return, had offered to lend his expert eye and judgment to Rennie and now Jones whenever called upon. It's a semi-victory for the Wallabies trainer, who has struggled to convince his former colleague to get back in the fray.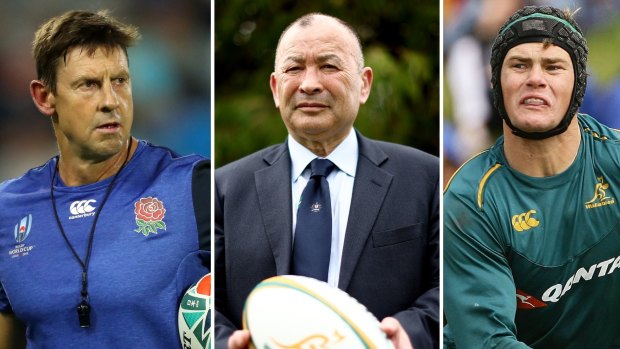 Elsewhere, Jones revealed he would bring in former AFL manager Neil Craig, a longtime adviser he had put in charge of performance when he joined England.
He has yet to announce the rest of his coaching structure but is hoping forward coach Dan McKellar will see the World Cup with the Wallabies before he looks elsewhere for head coaching opportunities. McKellar is in the mix to replace Borthwick at British Premier League side Leicester, who have reportedly been shortlisted by the English giants.
https://www.smh.com.au/sport/rugby-union/barnes-wisemantel-set-to-join-wallabies-coaching-staff-as-world-cup-plans-firm-20230220-p5clx5.html?ref=rss&utm_medium=rss&utm_source=rss_sport Berrick Barnes and Scott Wisemantel work alongside Wallabies manager Eddie Jones ahead of the 2023 Rugby World Cup