Benny Glaser demonstrates mixed-game skills with Omaha dominance | poker news
[+] Enlarge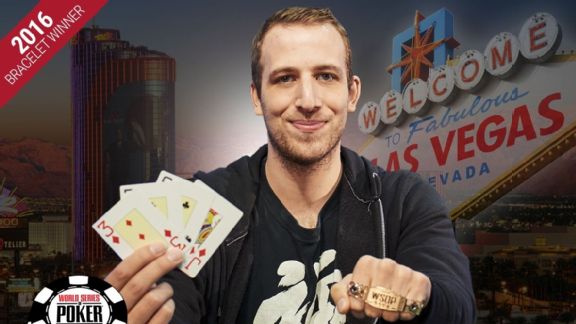 WSOP
Benny Glaser won two Omaha high-low split eight-or-better bracelets in a single week – along with Jason Mercier, who pulled off such a feat at the 2016 World Series of Poker.
Every year since 2000, at least one player has won multiple World Series of Poker bracelets in a single year.
This trend continued at the WSOP in 2016 as three players have already won twice. One player in particular had already won a WSOP bracelet prior to his double feat in 2016, and more impressively, he won his two events in less than a week, with a final table separating his first and second wins.
This player, who is in his 20s, narrowly missed winning three bracelets at a single WSOP – a rare trifecta, only achieved six times; Phil Hellmuth and Ted Forrest both made it in 1993, and they are joined by Puggy Pearson (1973), Phil Ivey (2002), Jeffrey Lisandro (2009), and George Danzer (2014).
While many may think I'm talking about five-time WSOP bracelet winner and poker superstar Jason Mercier – and those qualifications apply to him as well – I'm referring instead to a young Brit named Benny Glaser.
The 27-year-old from Southampton, England, started the summer with a 12th-place finish in the $1,500 No-Limit 2-7 Single-Draw Lowball event and just days later made the final table of the $10,000 Championship Edition of the same game, finishing in the fifth place.
Shortly thereafter, Glaser embarked on a six-day Omaha high-low split 8-or-better run for the ages. It started when he won his second career bracelet at the $1,500 event, beating 932 other competitors in a relatively smooth run to victory. After this victory, he again showed an impressive performance; This time, Glaser rode a roller coaster against a field of 163 players in the $10,000 version, coming out on top once again to snag his third bracelet (and second of the summer).
"It was amazing. The back-to-back made it all the more insane," Glaser said. "It felt insane."
So far this summer, Glaser has cashed six times, earning over $720,000. As a kid growing up in the UK, he could never have imagined a summer like this.
As a youth, Glaser loved strategic games like backgammon, chess and logic games as they challenged him intellectually, which was a precursor to his current passion – poker. When Glaser was about 14 years old, his father, who often played online, introduced him to the game.
"He never really talked much about poker, but I was interested in watching my dad play online," Glaser recalls. "I started getting interested in the intellectual aspect of the game."
The Southampton native gambled for play money and played online – mainly Hold'em – on and off until he was 19 years old. During this time he became more and more fascinated with the game of poker by watching it on TV – and his favorite player was World Poker Tour legend Gus Hansen.
"I used to watch WPT shows. It definitely interested me, but the dream wasn't specifically to get on TV," Glaser said, "it was to play against the pros and be a part of it. My favorite player when I was young was Gus Hansen. At that time he was both very good and very charismatic. He was also a good, interesting personality. He just made the game look cool."
When Glaser was about 20 years old, he saw a friend making big money playing online poker and this inspired him to take the game more seriously. The same friend also recommended the 2+2 poker forums.
At the age of 21, the Englishman began trying his hand at games other than Hold'em. He was first interested in pot-limit Omaha high-low and once again inspiration came from his father.
"When I was about 21, my dad started playing PLO 8, and I got interested, too," Glaser said. "I thought I'd give it a try and I realized I was pretty good at it and at the same time everyone else was terrible. That was pretty profitable for me."
[+] Enlarge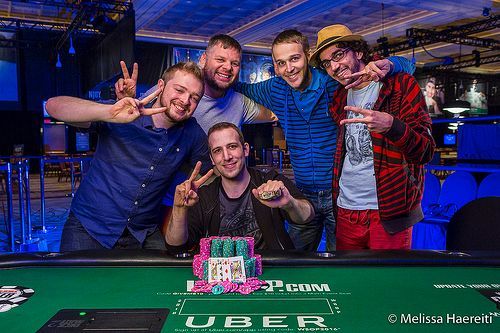 Melissa Haeriti / WSOP
Benny Glaser sat on two career WSOP bracelets for just a few days before quickly adding a third.
Later, his aforementioned friend suggested he play on bigger sites like Full Tilt. It was there that Glaser discovered other games and decided to focus primarily on mixed games, realizing he had such a large relative advantage over the average player. Today he considers himself a mixed game specialist in both cash games and tournaments.
"The limit mixed games are generally rarer. They're played less than no-limit, so people are often just less experienced and overall fields are weaker overall," Glaser said. "So I feel like I have a huge advantage, especially when it's a mixed eight game. Then it's quite difficult to find people who are very good in all eight games. Most people, at least at one of the two games, won't be very good.
"Also, I find them more interesting than no-limit hold'em, rightly so," he continued. "They're fun, especially when it's a mix of games. Mixed games can also make you think differently, take you out of your comfort zone, and help you think outside the box."
By the time he was 23, Glaser decided to invest many hours into playing the game and improving himself, and committed to making it his main occupation. He began talking to other poker pros about hands and situations while working very hard at each game.
"I tried to be very versatile. I worked very hard on every single game. I always said I had three best games, O[maha] 8, 2-7 [triple draw] and Limit Hold'em."
After much study and practice, Glaser decided to make his first foray into the WSOP in 2014. After playing 20 to 25 bracelet events, he went completely empty-handed and Glaser left Las Vegas very disappointed.
That initial setback didn't stop Glaser from taking another shot as he returned to England to continue working hard on his game. He was busy playing online and gearing up for another bracelet run at the 2015 WSOP. This time Glaser returned with a vengeance, winning that WSOP bracelet against a very tough final table that happened to be one of his best games – $1,500 2-7 Triple Draw Lowball.
"It was a shock because it was by far my biggest win of all time."
When he entered the 2016 WSOP, Glaser had high hopes and expectations for himself. He even had the confidence to pick himself in a variety of poker fantasy drafts that he entered – including the famous $25,000 fantasy draft . Surprisingly, Glaser settled on a whopping $30 in the draft, leading some to question this unexpected choice. Of course, these pundits are now eating their words.
"Even after winning a bracelet, I kept learning and improving my game. Coming into this summer I felt good and ready to go. I had a great SCOOP winning one of the $2,000 and making two more $2,000s to the final table. I also chose the fantasy draft, knowing I would be playing a busy schedule."
While Glaser had high hopes for this summer, he definitely never anticipated a summer like this. "Of course, that exceeded my expectations," said Glaser. "I thought it might be possible, but you still don't think it could happen. It's pretty much a dream."
With his performances to date in 2016, his peers recognize his achievements and many have acknowledged his hard work and solid game.
"Benny is a very, very solid player who has studied very hard and put in the work playing endless hands of Omaha 8, 2-7 Triple Draw and all the other games online," said fellow Englishman Adam Owen, who two has appearances at the WSOP final table in his favour. "Benny knows every spot in Omaha 8 incredibly well, it's kind of scary. He understands tournament adjustments very well and we talk about poker quite a bit."
The "other" two-WSOP-bracelet-in-one-week club member also caught the eye at the two final tables they battled this summer, where everyone walked away with one of the bracelets.
"Anyone who can win back-to-back Omaha 8-limit events must be doing something right," confirms Jason Mercier. "Having played a lot with Benny over the past few weeks, he's definitely a very solid tournament player in all variations."
Looking over the last few weeks of the WSOP, Glaser notes that he's in contention for the WSOP Player of the Year title, but he won't bother changing his schedule to chase that title.
"It's definitely a possibility, but it's not such a big goal for me and I won't drastically change my schedule," Glaser said. "I was already planning to play a huge schedule, [and] The only event I would do differently is play the $50,000 (Poker Player's Championship)."
As Glaser looks towards his bright future, he has one simple goal after working so hard over the past few years.
"I want to be recognized by my peers as one of the best players in the world," Glaser said. "It's something I've strived for and still strive for in order to be among the best."
As a three-time WSOP bracelet winner before the age of 30, Benny Glaser is definitely on track to achieve that goal.

http://en.espn.co.uk/poker/sport/story/421307.html?CMP=OTC-RSS Benny Glaser demonstrates mixed-game skills with Omaha dominance | poker news