Ben Affleck film willing to take risks despite poor output
Air ★★
(M) 112 minutes
Say what you like about Ben Affleck, he's willing to take risks. Not everyone would have jumped at a movie about one of the most famous athletes of all time that barely featured the athlete in question as a character.
But this is how we get in Air, which Affleck is directing from a screenplay by rookie Alex Convery (a devout worshiper at Aaron Sorkin's church, according to this evidence). While in no way a Michael Jordan biopic, the film turns back the clock to show how a sponsorship deal he signed early in his career led to the creation of a highly profitable sneaker line.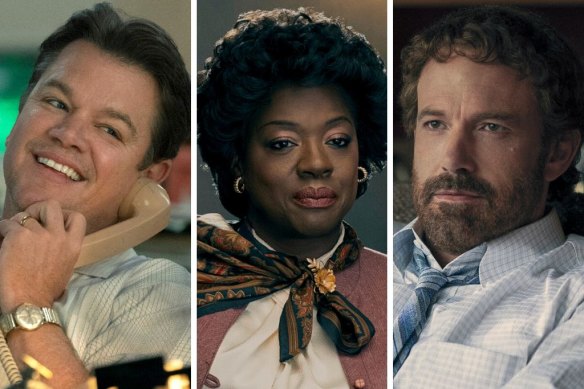 As the script tells us, these sneakers are little more than symbols: "A shoe is just a shoe until someone steps into it." Yet the man destined to step into the Air Jordans remains out of the picture, aside from a few archive snippets and a cameo as a lanky figure lurking in the background of a shot, in the manner of Jesus in Ben Hur.
The religious undertones are a possible route into this strange film, which is literally the story of a prophet: Sonny Vaccaro, Nike's head of marketing responsible for bringing Jordan on board. He's played by Affleck's old pal Matt Damon in a series of polo shirts as the quintessential middle-aged middle-aged white man.
Sonny is neither hip nor athletic, but he knows basketball well enough that he spends his free time watching grainy VHS tapes of up-and-coming talent. He has no personal life, which has become a convention in this type of film. Jordan is just another promising NBA rookie at this point, but Sonny is confident he's dealing with a superstar in the making — an intuition we know will put him on the right page of history.
Sonny's efforts to spread the good word take up most of the film's runtime, allowing for endless Sorkin-style boardroom banter as he presents his vision for the future to his skeptical peers. The line-up includes Jason Bateman, Chris Tucker and Affleck himself as Nike's new-age CEO, outfitted with a suitably ridiculous perm to show he's a good sport.
All of this is presented with a degree of rhythm and showmanship, if not very subtle: time is conjured up in the most obvious way, with needle drops emanating from it sunburn for the Beverly Hills Cop subject and more nods to then-current popular culture than any film actually made in 1984.