Beck shines ahead of Bluesfest in Sydney
BECK
Darling Harbor Theatre, ICC, April 6th
★★★★
One of the joys of being a Beck Hansen fan is that you're never quite sure what you're getting when he releases new music. In the last 30 years we've seen Folk Beck, Hip-Hop Beck, Funky Beck, Country Beck – sometimes all on the same album.
Which makes the prospect of what's being billed as a "solo-acoustic" show seem somewhat limiting. Why make the impossibly boyish 52-year-old choose a track that sounds like you're only tuned for the slow, sad stuff when he's made a career as a human jukebox that blurs lines?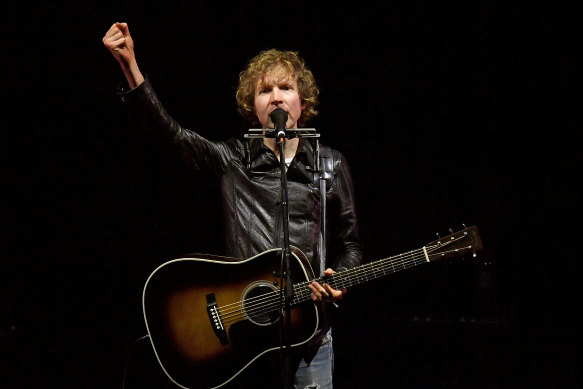 When we get to a hilariously bad song with cliche-ridden lyrics created by AI, who was tasked with writing a song in Beck's vein, it's clear that the LA native's talent for defying expectations and his work mischievous humor hasn't diminished in any way over the decades.
Yes, there's still a healthy dose of stripped down, slow, sad songs off albums changing tide And morning phase which do a great job of highlighting Beck's impressive vocal range and emotional songwriting, but they're acidified by a slew of funny anecdotes that keep the mood upbeat rather than dour.
The whole solo-acoustic concept is thrown out the window when Beck is joined on stage by a double bass player and a lap steel guitarist just before the set, with the trio dishing out rousing Neil Young and Hank Williams covers, one lively version of it Tropicalia and the pumping, piano-led crowd puller Where it is.
The setlist ranges from throwbacks from the 90s Don't pay attention to it (snoozer) And Nitemare hippie girl to an excellent new single Thinking of youbut it's the two encores that perfectly embody Beck's genre-bending brilliance.
Loading
Heartbeat has just been dutifully drawn from Folk Beck Classic The Golden age as Funk Beck arrives to practice his falsetto at Camp Prince Homage debrawhich then gives way to the pounding, blazing harmonica rave-up With one foot in the grave.