Basketball' Perth Wildcats stage rally to end South East Melbourne Phoenix's season
A superb performance from Bryce Cotton in the fourth quarter inspired the Perth Wildcats to a stunning 106-99 comeback victory over South East Melbourne Phoenix in a dramatic start to the NBL's first play-in tournament.
South East Melbourne led most of Thursday night's play-in qualifier at the John Cain Arena, but Perth rebounded from a 13-point deficit in the final quarter to end the Phoenix's season in spectacular fashion.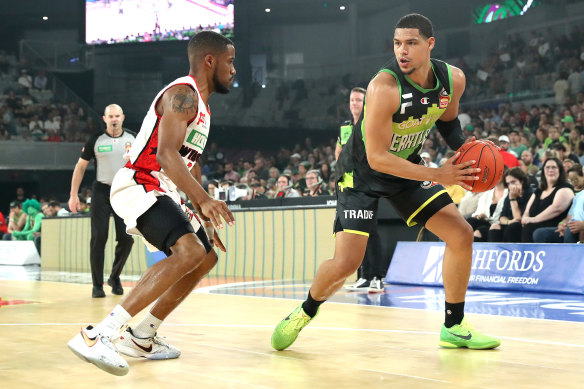 The Wildcats scored 41 points in the fourth quarter to overtake the top of the Phoenix, League MVP finalist Cotton shot up 20 points for the season with Perth's season on the line, while Mitch Norton and Luke Travers also made important baskets in the closing stages.
Trey Kell III gave the home side a glimmer of hope as his three-pointer cut Perth's lead to three points in the last minute, but Ryan Broekhoff failed to create a game-changing three-pointer with 30 seconds left and TaShawn Thomas put the game on hold from the free-throw line.
Cotton bounced back from a 1-of-9 shooting in the first half to finish the game with 26 points while Brady Manek drilled six threes on his 24-point streak.
After finishing last in the final game of the regular season by beating Minor Premier Sydney, the Wildcats now take on the losers of the seeding qualifier Cairns vs Tasmania at the Kings in Sunday's play-in game a best-of-three playoff series.
The Wildcats got off to a brilliant start but lost momentum when Travers limped onto the bench with an ankle problem. Gary Browne's perimeter shoot helped South East Melbourne accumulate 13 straight points.
Manek's three-point accuracy prevented Phoenix from building a huge lead, but the home side managed to build a 22-18 buffer by the end of the first quarter after letting Perth shoot from the field to 28 percent.
https://www.smh.com.au/sport/basketball/wildcats-stage-rally-to-end-phoenix-s-season-20230209-p5cjf0.html?ref=rss&utm_medium=rss&utm_source=rss_sport Basketball' Perth Wildcats stage rally to end South East Melbourne Phoenix's season