Bank Holiday Weekend Storm – Boston News, Weather, Sports
7Weather – It was wet, windy and mild as a storm blew through last night into this morning. It was a decent soak as areas of SE bulk came out at the top and caught more than 2 inches of rain. You've probably also noticed that the wind comes with the rain. Gusts over the coast and cape reached almost or more than 80 km/h!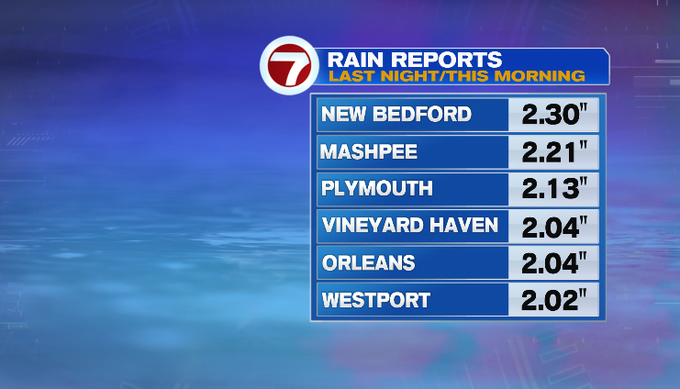 I hope you enjoyed the mild feeling today as the colder air moves in overnight. It will feel very different tomorrow! Temperatures remain in the mid/high 30's with lots of cloud. There will be a steady N/NW breeze at 10-15mph which will make it feel cooler. Overnight into Sunday we bring the chance of showers.
We are observing a depression that developed along the drag front of this past storm. This storm system will be heading our way, staying offshore but bringing snow to southern New England through the end of the Bank Holiday weekend.
As the storm stays well offshore, rain will return early Sunday morning and remain through Monday. So it's a two day storm and the accumulations you see below cover that time frame. Where you see the sum of 2-4″, we expect road build-ups to be a 2″ coating when all is said and done. You can see where the snow showers will build up from Sunday through Monday with the images below. The further west you drive through Mass, the fewer crowds you will see.
The other story will be the wind this weekend. The wind will be strongest on Sunday. The cape and islands could get gusts of 80 to 80 km/h. South Shore and Cape Ann could get gusts near 45 mph, occasionally in gusts near 50 mph. This could potentially damage branches.
Looking ahead to Tuesday and Wednesday, temperatures for January will be relatively mild in the upper 40's/possibly near 50's. The forecast becomes uncertain again at the end of the week.
Have a safe holiday weekend!
-Meteorologist Melanie Black
https://whdh.com/weather-blog/holiday-weekend-storm/ Bank Holiday Weekend Storm – Boston News, Weather, Sports