Balloon fiasco full of diplomatic hot air
Tokyo: Balloons are cheaper than satellites and look innocent. They are also full of hot air.
All of these features are a useful allegory for the spy balloon fiasco that has dominated US-China relations for the past week – a whirlwind of cheap espionage, subterfuge and diplomatic theater that has captivated millions in a sideshow shared by both superpowers would have liked to avoid.
Beijing dispatched Vice Secretary of State Xie Feng to make "serious demarches" against Washington's decision to launch the balloon that ended its journey 20,000 meters off the US east coast on Sunday.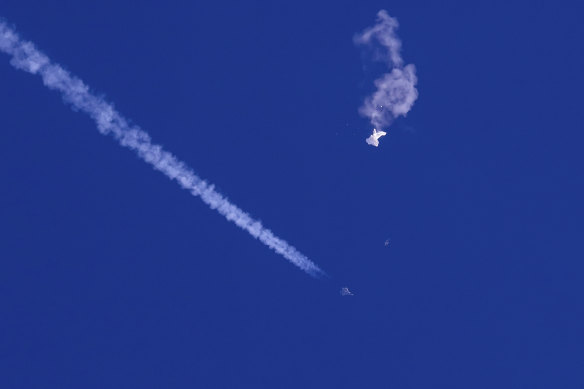 "China, on behalf of the Chinese government, expresses strong opposition and strong protest against the incident," Xie said Monday.
Who you might ask? Exactly. The seniority of Xie's position, not the substance of his message, is the best signal of how Beijing is handling this fiasco.
A day earlier, China's State Department told Washington it was "seriously concerned" about the incident. "Serious Concerns" is the diplomatic parallel of a tut-tut, just a step up from "Solemn Representations." But the demarcation allows Beijing to engage in a performative outrage that moves in a loop and maintains its fundamental narrative of China versus the West.
By playing up rhetoric while downplaying staff, the State Department has fueled its domestic nationalist audience while avoiding an escalation of the situation with the US.
The timeline of events shows that the US also took pains to keep the balloon out of the public eye. Bloomberg reported Sunday that Washington knew the balloon was in US airspace as early as Jan. 28, six days before it went public and four days before Chase Doak shot it over his property in Montana by a local photographer western state floated.
https://www.smh.com.au/world/asia/balloon-fiasco-full-of-diplomatic-hot-air-20230206-p5cib2.html?ref=rss&utm_medium=rss&utm_source=rss_world Balloon fiasco full of diplomatic hot air