Baby killer Keli Lane is seen on the outskirts of Sydney for the first time in years as his sentence nears the end
Baby killer Keli Lane has been spotted for the first time in years, pictured at work at a milk processing plant on the outskirts of western Sydney as she nears the end of her sentence.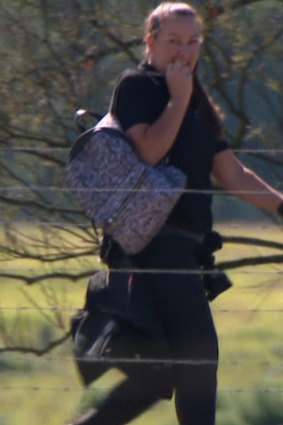 Lane's pictures come nine months before the former water polo champion is eligible for parole.
The herald And Nine news may reveal the 48-year-old is living in a transitional home and working full-time – producing dairy for the state's prison inmates – while preparing for a possible release.
The former Olympic hopeful gave birth to a daughter named Tegan at Auburn Hospital in 1996.
Just hours after being released with her two-day-old daughter, the mother was celebrating a friend's wedding.
Lane claimed she turned Tegan over to his biological father that same day, a man named Andrew Morris or Norris, who never came forward and was never found.
Lane was found guilty by a New South Wales Supreme Court jury in 2010 of the murder of her newborn daughter and sentenced to a maximum sentence of 18 years in prison, including 13 years and five months without parole.
She has always maintained her innocence. Lane served time in some of the toughest prisons in all of NSW, including Silverwater, Dillwynia and Clarence Correctional Center on the state's mid-north coast, where she was housed with another high-ranking prisoner – Kathleen Folbigg, who was recently pardoned after being wrongly sentenced to 20 Years in prison had been years over the death of her four children.