Australia's popular steam train crosses the bridge for the first time
For Ajay Negi, it was a ticket he had clung to more tightly than perhaps a pass to the grand finals. The 13-year-old from Mittagong wanted to cross the Harbor Bridge aboard locomotive 3801 in March to celebrate the 90th anniversary of the opening of Sydney's great icon.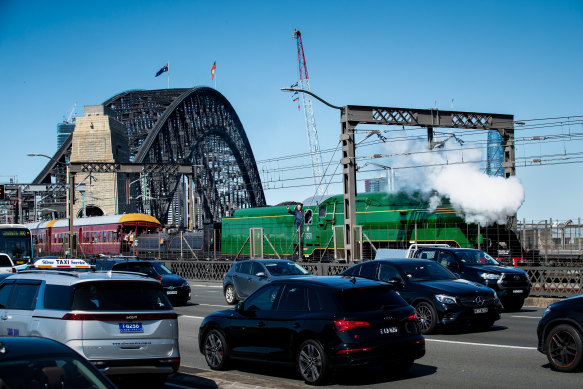 But because of the wet weather, that ride on the state's beloved steam train — the first across the bridge — has been pushed back to Sunday.
"I feel lucky to be able to experience that. I'm just so excited," Ajay said. "I think it's the most famous because it's made so many trips across Australia and it's our fastest steam train."
Ajay would like to one day work in the development of environmentally friendly steam engines.
When locomotive 3801 departed Central Station at 9.07am on Sunday to cross the Sydney Harbor Bridge, Ajay was ready for his "unique experience".
Ajay's mother, Cristina Negi, said Ajay would appreciate the experience and would one day tell his own children about it.
"Having a 13-year-old who loves trains so much to have this once-in-a-lifetime experience is such a blessing," Ms Negi said.
This monumental event, bringing together two Australian icons, was Ajay's fifth time driving the 3801 since the train returned to service last year and he claims he'll never tire of it.
Transport Secretary David Elliott was equally enthusiastic. "Seeing this iconic steam train traverse one of the most iconic structures in the world is an experience like no other – no other train can take you back to the golden age of rail travel quite like 3801," he said.
https://www.smh.com.au/national/nsw/lucky-to-experience-this-australia-s-beloved-steam-train-crosses-the-bridge-for-the-first-time-20220925-p5bkvn.html?ref=rss&utm_medium=rss&utm_source=rss_national Australia's popular steam train crosses the bridge for the first time