Australian leaders just caught up with the public by ending the Covid isolation
The stated capacity of Melbourne Cricket Ground is 100,024. The crowd at last weekend's AFL Grand Final was…100,024. No free seat in the house. These numbers say a lot about the state of the pandemic in Australia; for most it is a non-entity.
If a significant portion of the population were still being tested for COVID and isolated for a positive result, you would expect at least some of those MCG seats to be empty on game day. Maybe the sick just passed their tickets on to others. But it seems doubtful.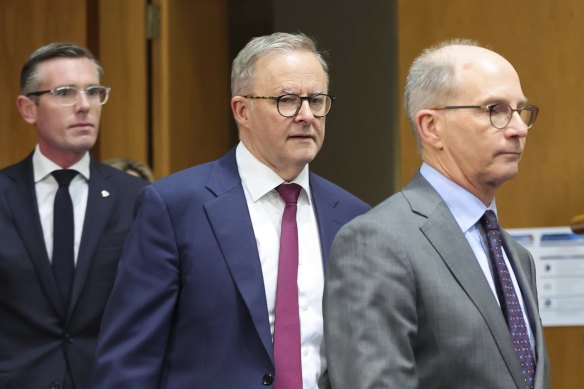 The reality is that the public abolished "testing and isolating" well before premiership ministers, premiership ministers and the prime minister agreed on Friday — just as many commuters removed their masks well before state governments technically allowed them to.
This has been a voluntary system for some time. There is no way to ensure people are tested if they are sick or isolated if they are positive. It has always relied on collective collaboration. Once most people contracted the virus and had mild symptoms, that collaboration would always dwindle.
Friday's announcement was both striking and unsurprising. Striking because it seemed to be coming so quickly – just weeks after the isolation period was cut from seven days to five days – but not surprising because we've basically followed the rest of the world on these things throughout the pandemic, just six months later.
The UK ended all COVID rules in February, at the end of its winter, and we did the same just a month after our winter ended.
On Friday, Chief Medical Officer Paul Kelly emphasized that the pandemic is not over and that there will be more waves. What would have ended COVID's status as an emergency. Indeed, it's time to "move away from COVID exceptionalism," Kelly said.
There have been suggestions this could all go the other way, with rules reinstated if trouble brews again. But all the evidence points to this being just rhetorical window dressing for the part of the population that is still very concerned about COVID. It would be remarkable and against the path of other countries to introduce restrictions on return now.
https://www.smh.com.au/national/by-calling-time-on-covid-leaders-were-just-catching-up-with-the-public-20220930-p5bm8y.html?ref=rss&utm_medium=rss&utm_source=rss_national Australian leaders just caught up with the public by ending the Covid isolation