Australian actress Tanzyn Crawford stars in the new Disney series Tiny Beautiful Things
The focus is on the new Disney+ series small beautiful things is about the disorder of life. The show, based on Cheryl Strayed's collection of her Dear Sugar advice columns and produced by Reese Witherspoon and Laura Dern, pulls back the curtain on the people who help us navigate it all.
The series follows Clare (Kathryn Hahn), an advice columnist loosely inspired by Strayed, who proves that the chaos of one's existence doesn't prevent one from leading others effectively. Things are complicated for Clare: her marriage is strained, she gets into trouble at work, and her interactions with her daughter, Rae (Tanzyn Crawford), usually end in a screaming argument.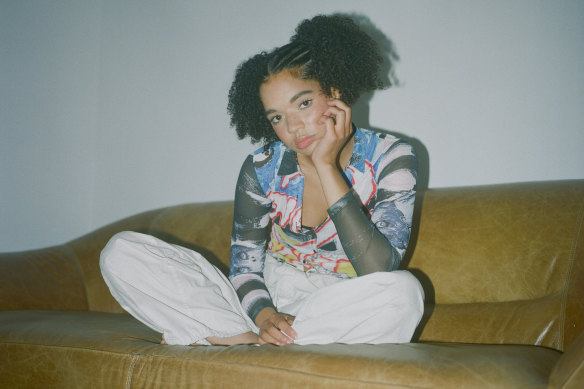 Crawford, 22, an aspiring Australian actress from Perth who recently appeared in the Apple TV+ thriller series servant, found much in Rae to identify with. Life is tricky for the character too – a gay teenager exploring relationships, figuring out who he is and trying to find his place.
In an edited interview, Crawford spoke about her influences, her hobby of making and selling clothes, and how she saw herself in her character.
Q. On the show you play a very anxious teenager struggling to find her identity, explore her sexuality, navigate a complex relationship with her mother – all the typical teenage things, really. Did you draw from your own experiences as a teenager?
A. Absolutely. When I got the original script, I called my mom and said, "Mom, this is an argument you and I have had a dozen times." My mom is white too, and there are moments in the script where that really comes into play. I was also a 16-year-old struggling with my sexuality, so that was very familiar to me. I just felt like I wanted to retell my 16 year story for so much of it.
Q. How did you stay emotionally stable while going through all those turbulent feelings all over again?
A. Oh I didn't. Rae, my character, cries a lot. So I've been crying before, and then I came home and cried, and I called my mom and I was like, "Oh, I dug up so much stuff." This is one of my first jobs so I don't really know how to deal with the emotional side and how to cut it off when you go home.