(ASX:QAN) The airline sector is obliging corporate suits to handle bags amid labor shortages
Hundreds of employees at airline industry headquarters must check in baggage, manage queues and respond to other front-of-house customer service needs as the industry continues to grapple with global staff shortages and unprecedented travel demand.
Since April, corporate employees at Qantas, Virgin, Melbourne and Sydney airports have been recruited on an ad hoc basis to serve as frontline volunteers during busy periods.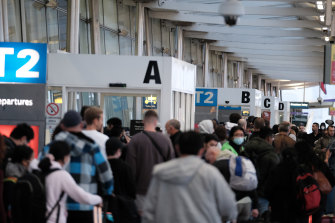 Last week, Qantas sent a formal request to managers and executives to opt into a "short term agreement" for the next three months if they chose to perform some of their corporate duties of loading and unloading aircraft and driving a tow tractor ( the vehicle used to transport luggage around the airport).
In the note, Qantas said high winter flu numbers, a COVID-19 surge and the ongoing "tight job market" were responsible for the "operational challenge" the airline was facing.
Loading
The airline said it needs at least 100 managers to participate in the program, which would require at least 12 to 18 hours working three shifts a week from August to December but would not require volunteers in addition to full-time duties.
"We recognized that our operational performance did not meet our customers' expectations or the standards we expect of ourselves – and that we pulled out all the stops to improve our performance," said a Qantas spokesman.
Since the program began at Easter, around 200 Qantas headquarters employees have taken part in the programme.
Qantas outsourced baggage handling in 2020, resulting in 1700 layoffs. The federal court found the move to breach the Fair Work Act, a ruling the airline is appealing to the High Court.
https://www.smh.com.au/business/companies/aviation-sector-enlists-corporate-suits-to-handle-bags-amid-workers-shortage-20220808-p5b84y.html?ref=rss&utm_medium=rss&utm_source=rss_business (ASX:QAN) The airline sector is obliging corporate suits to handle bags amid labor shortages