As La Nina weakens, Grass Fire threatens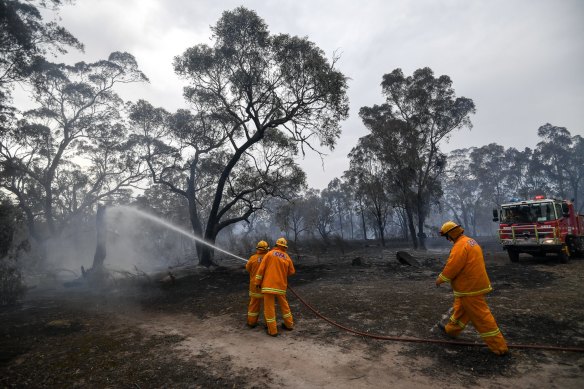 What's coming up this year
Authorities are turning their attention this year to the increasing fire risks. Above average fire potential is expected in parts of Western Australia, southern Queensland and inland NSW due to increased fuel loads, a report by the Australasian Fire and Emergency Service Authorities Council has revealed.
Meanwhile, other parts of NSW, Victoria and the ACT face below-average fire potential due to the damp landscape, persistent wet prospects and reduced fuel loads following the 2019-20 bushfires. The Sydney Morning Herald Chief photographer Nick Moir, who has spent years documenting natural disasters, said current weather systems are not producing westerly winds strong enough.
"In 2016 we had a lot of grass growth, but it wasn't until 2017 that we started seeing grass fires because the wind wasn't there," Moir said. "We don't have all the ingredients yet. The fuel is there, the temperatures are there, but the drought and the wind aren't."
For emergency services, there have been more floods than fires in warming months over the past three years. Unfortunately, this has delayed firefighting efforts.
In NSW, the RFS has conducted hazard reduction fires on just 8764 hectares since July. The agency's target for this fiscal year is 318,891 hectares. In 2021-22, the agency treated 40,123 hectares, while in 2020-21 approximately 176,499 hectares were treated
Heavy rain has resulted in heavy grass growth across much of western NSW. Rogers said the state was facing its biggest grassfire threat in more than 20 years, particularly for western parts of NSW. Rogers said while the amount of water in the highlands would increase grassfire risk for years to come, areas that burned during the 2019-20 bushfire season were recovering faster than expected.
According to the fuel accumulation curve, a model used by fire departments, it should take eight to nine years for the affected landscape to become of concern. But heavy rains over the past three years mean those areas could be burning again in five years. Maps from the NSW RFS show heavy grass fuel pollution across much of the state, stretching from western NSW to many coastal areas.
In December last year, the state had 850 grass fires. There have been 90 grass fires in NSW since the beginning of this year.
Rogers said the bushfire risk would increase around March. He added the best things people could do to prepare for the increased risk is to keep their lawns as short as possible, clean gutters, ensure there are limited combustible items indoors, and a to have an evacuation plan.
Risk in Victoria
For Victorians, the risk of grassfires remains normal, said Alen Slijepcevic, deputy chief of bushfire management at Victoria's Country Fire Authority.
Maps from the state fire department show that grassland hardening — a measure of the amount of dead grassland in the landscape that has dried up or died — remains higher in the north of the state.
Forest Fire Management Victoria chief fire officer Chris Hardman said the agency, which conducts mitigation efforts on public lands, has continued with mitigation efforts despite wetter conditions this year.
"We've also increased our use of mowing, chopping and mulching and expanded our network of strategic fuel breaks to better protect us from bushfires. These strips of land are in top-priority locations — near cities, watersheds, and sensitive environments," Hardman said.
"While we don't expect many long lasting or large wildfires this summer, areas of north and west Victoria could see increasing fire risk from mid-summer, particularly in areas with tall grass growth.
Drier forests, forests and heathland are also at risk of fire with the onset of hotter and drier weather conditions."
Get to the point of what's happening to climate change and the environment. Our 14-day environmental newsletter brings you news, problems and solutions. Sign up here.​
https://www.smh.com.au/environment/weather/as-la-nina-weakens-fire-threat-looms-20230102-p5c9vj.html?ref=rss&utm_medium=rss&utm_source=rss_environment As La Nina weakens, Grass Fire threatens