As it always was, why we are all hostages to history
New Year's resolutions are often framed with comparisons. "I'll drink less." "I'll read more." "I'll make more family time." We believe it's about the future; about the enticing year ahead. Really, they're about the past and our relationship to it: regret, shame, blindness.
For the past several summers, we have been sealed off from both the past and the future. Bushfires, floods, fast-spreading diseases – all of these have drawn us into immediate reflection, forcing us to stand still and only look at what is closest to us. At the beginning of this year it may have seemed for a moment as if we were once again free to think about the future and how we could shape it.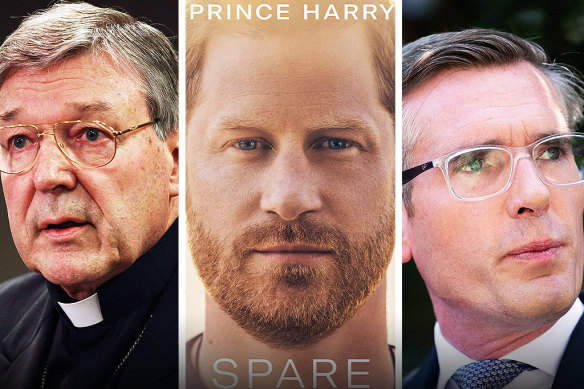 So it seems oddly appropriate that some of this year's most important stories have already thrown us back in time so firmly, as if to remind us that what feels like unlimited freedom is actually quite limited; that what came before always includes us.
Last week, Prince Harry's memoirs, spare part, has been released. It is striking that Harry has chosen such a past-focused form in his boldest attempt yet to project into his future, to herald the beginning of something new. And yet memoirs are obviously about the past, but also about the present. The author draws back and shapes his material according to his current beliefs and interests. But of course the material also shapes it; for it is his past that shaped those beliefs and prejudices which then reach back and redraw the way he sees his past. There is an endless dance between the two, and no one can be sure where one begins and the other ends.
We might be led by the recent digging up of trivial royal episodes—frozen penis comes to mind, an expression I hope to use only once in my life—to ask the question: how much of the past should the past remain? But having a moral view is probably pointless because in reality it never is. Two days after spare part's release, NSW Prime Minister Dominic Perrottet admitted he had worn a Nazi uniform to his 21st birthday celebration. The irony is perfect: a man who used to treat the history of others with contempt as something to be scoffed at or laughed at can now not escape his own, which is undone by the same contempt. It reads like a fable about the dangers of believing that the past can ever be toyed with.
As a fable, its power pales next to the shape of George Pell's life. He spent years attaining power and prestige, reaching what some considered great heights. His admirers are already fighting for his posthumous reputation: Tony Abbott described him in a formal tribute as "a saint for our time". But Abbott, who in other contexts has warned against rewriting history, surprisingly neglected to mention the Royal Commission's report in Institutional Responses to Child Sexual Abuse. The commission found that Pell had protected abusive priests instead of children. Later, the victim compensation system he put in place ensured that the compensation was meager and the victims remain silent.
Those failures have already begun to overshadow everything else Pell has done. That doesn't equal justice, of course – the suffering of those who turned Pell away will always far outweigh the reputational damage Pell suffered himself. Rather, it is a reminder of how things went: what actually happened cannot be ignored, after all. Pell turned away from the present and turned away from the past. In the end, it wasn't just the facts he was trying to shut up, but the fact that he was trying to shut them up that became the loudest thing about him.
This summer I read a book review by academic William Davies. Politics can often seem gripped by the present; A trend consistent with the apparent shape of our economy, with technology driving constant innovation and change. This sense of moving forward gained strength over the past century, in which capitalism and progress seemed to be linked and disconnected from the past.
https://www.smh.com.au/politics/federal/same-as-it-ever-was-why-we-are-all-hostages-to-history-20230115-p5cclj.html?ref=rss&utm_medium=rss&utm_source=rss_politics_federal As it always was, why we are all hostages to history