As I wait for a bus that never comes, I curse Alan Joyce
Consultants are particularly useful for government agencies that have reduced their staff and now have no one to fill the lost jobs. Like a wounded wildebeest spreading out the welcome mat for the hyenas, the department first pays a consultant to suggest outsourcing this work, and then hires another consultant to do the work they used to do as employees and are now doing Offered at a bargain price is twice the price.
If outsourcing government services was the ailment, the Transport Secretary seems to have recognized this early by outsourcing the task of recruiting a new department head.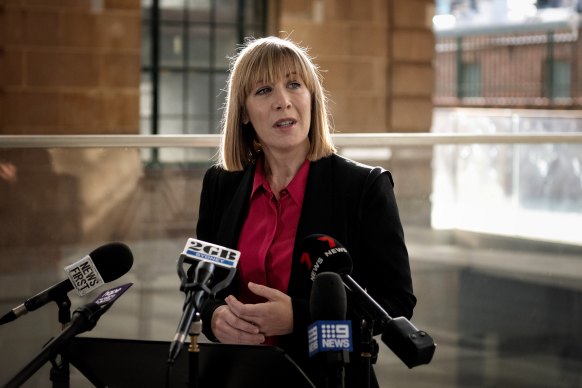 The recruitment consultant – at a cost of $125,000 – concluded that former Labor apparatchik Josh Murray posed a "significant risk". The minister, who was doing her job halfway, dismissed the adviser's report and appointed Murray anyway. Cheers to the minister who is finally making her own decision. Out with the independent experts, in with the ministerial responsibility!
(Before I go any further on defending the untenable, I would like to declare a conflict of interest of sorts, as ultimately it is all about declaring conflicts of interest. I have never met Minister Haylen, but know family members and attended the funeral of her father Peter, a campaigner whose opinion would have been unvarnished on the subject.No tickets were sold, no money changed hands—it was a non-religious service—even though $250 or $500 could buy me anyhow case, it was neither offered nor accepted by the Minister.)
Unfortunately, the Minister's fault was that the adviser's report, like a NSW bus, was late and off schedule. The "significant risk" expert assessment should be used as a handy cover when you are about to fire someone, not when you intend to hire them.
Is loading
In the second act of the drama, Murray was questioned in an ongoing House of Lords inquiry into the relationship between the government and outside advisers (Haylen does not plan to appear, having outsourced this function). The leader of the inquiry, Green MP Abigail Boyd, makes the good point that Haylen might get credit if she died over one principle – taking responsibility for an important appointment and not handing it off to an adviser. Instead, she is blamed for wasting money on the adviser and then hiring a Labor insider anyway.
"Jobs for the boys!" calls the coalition and contributes their great experience. "Abuse of public funds for consultants!"
This is the same coalition that paid a recruitment firm not to recommend John Barilaro to represent the state as trade envoy in New York, then ignored their advice and tried to get him the job. Probity experts such as former judge Anthony Whealy KC have described Murray's appointment as a kind of Barilaro; The job of Secretary of Transport is a real job and Barilaro's skills, unlike Murray's, had been on alarming public display for some years.
But the parallels are unavoidable: perceptions of favored boy jobs and appointments are based on personal trust and club loyalty. The fact that the election of the Secretary of Transportation also involves a trusted fellow tribesman who bought tickets to campaign events adds a second moat that any minister would struggle to emerge from.
It's fair to say that the public is fed up with ministers hiring advisers to publicize their inability to do their jobs. But it's even worse when they hire officers to act as team members (hello robo-debt). If anyone needs to be independent here, it's not the outsiders, it's the insiders. There is more to dependent public service than just 'bad looks', that other staple of the Australian way of life. It's bad government.
If Haylen rejected the advice of the recruitment firm and appointed a secretary who could get people from bus stops onto buses, if she bypassed the headhunters to fix the chronic everyday bottlenecks on our rail lines, if she rejected the consultant's opinion to help the people of … NSW the safe and reliable public transport that they want to finance with their taxes, that would not only be good optics, it could even be good government.
Instead, we're waiting for the third act of the melodrama, which is about someone quitting or getting fired. And then it comes full circle with an independent inquiry from a consultant on freelance rates, an alpha to an omega when you don't know how to do something.
Meanwhile, we're still waiting for the ghost bus.
Malcolm Knox is a journalist, author and regular columnist.